Lava lamps are best known for their iconic ambient lighting capability and can be used for a variety of situations ranging from a normal nightlight to providing mood lighting for social gatherings.
Luckily with the advent of technology, some of them now come with additional functionality such as speakers. With this deadly combo, they are a perfect addition to have when you are throwing a party, watching a movie marathon with your friends, or just chilling with your dear ones.
The 3 best lava lamps with speakers are:
Sporticulture Magma Lamp
Superstar Jellyfish Lava Lamp
Playlearn Volcano Glitter Lava Lamp
What to Look For in a Lava Lamp with Speakers?
When it comes to buying a lava lamp with speakers, there are a few things to keep in mind.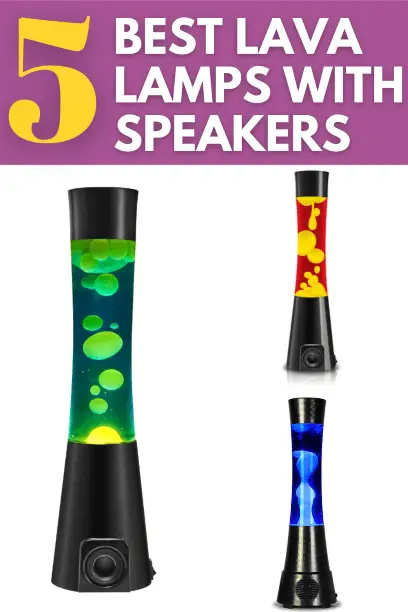 1)  Speaker Quality – Always make sure to check the quality of the Bluetooth speakers used in the product. While you certainly can't expect the sound to be as good as a traditional set of speakers, you do have to check if it will be good enough for the specific purpose you have in mind.
If you are buying one for your kids, then it's ok if it isn't loud enough but if you are planning to buy it for a party, then you want one with a great quality Bluetooth speaker.
2)  Safety – If you have small kids or pets in the house, then you might want to consider an LED lava lamp or a battery-powered one. Traditional lava lamps sometimes get very hot and this can cause a big problem when you also have speakers integrated into them.
High-quality lava lamps with Bluetooth speakers will be safe to use but lower quality ones might lead to dangerous consequences.
3)  Lighting – Always check to see if the lamp is suited for the purpose you have in mind. Do you want one for ambient and/or mood lighting or are you looking to use it as a night lamp? Are you getting it for a party or just to keep in your home while you watch movies and sports?
Based on your purpose, you need to check how efficient the lighting is and whether it will be enough for your requirements. Some brands may not include the brightness level in lumens in which case you can call the manufacturer and ask them.
Best Lava Lamps with Speakers
Here are the three best lava lamps with speakers. Do note that most of them may not be traditional lava lamps and are LED ones as the former ones are very rare to find. However, they do provide visually stunning lighting just as the standard lava lamps do.
1) Sporticulture Magma Lamp – For NFL Fans
If you are looking for a lava lamp with an NFL theme, then look no further than the Sportculture Magma lamp collection. The lamp is available in 12 different NFL team themes with premium Bluetooth speakers as well as convenient plug-and-use connectivity.
Each theme presents a unique look and feel when it comes to the overall design and colors. The lamp can be powered using your standard outlet connection and utilizes a standard 30-watt bulb.
What's very impressive about this lamp is the sound quality. While you may not expect lamps with Bluetooth speakers to be very efficient, this one is very impressive with a rich and full sound. The speaker comes with a small passive radiator at the bottom. Although it may be priced a bit high, the replacement bulbs are very affordable making it great value in the long run.
| Pros | Cons |
| --- | --- |
| Multiple designs to choose from | No multi-color options |
| Good quality Bluetooth speakers | Currently only 12 teams |
| Very affordable replacement bulbs | |
If you're interested, check the price on Amazon!
---
2) Superstar Jellyfish Lava Lamp – For Aquatic Lovers
If you love aquatic life and/or have kids, then this lamp might catch your fancy. It features a rechargeable battery, stunning silicone jellyfishes that float, battery-powered connectivity, a high-quality Bluetooth speaker, 1 USB line, a plastic body and a 1-year warranty.
While this is not technically a lava lamp, it does provide a beautiful lighting effect with realistic-looking jellyfishes that move up and down in the liquid. The colors change automatically from green to red to blue once it is on. Unfortunately, you can't set it to a specific color but it does look great in dark environments. As the body is made out of plastic, it's very safe to use for young kids as well.
The Bluetooth speaker has a transmission distance of 10m, which is pretty good and handy to have. It's also battery operated and so is perfectly safe to have even if you have kids or pets in your home. The battery will take up to 3 hours to get fully charged and will work for up to 6 hours, which makes it ideal as a nightlight for your kids.
| Pros | Cons |
| --- | --- |
| Good quality Bluetooth speaker | Can't choose a specific color |
| Great looking jellyfishes | |
| Excellent lighting at night | |
| 1-year warranty | |
If you're interested, check the price on Amazon!
---
3) Playlearn Volcano Glitter Lava Lamp with Speakers – Child Friendly
This lamp is another great option for young kids and comes with multi-colored LED glitter lighting, a Bluetooth speaker, a compact size and is very easy to use by even a young child. This one is also not a traditional lava lamp and utilizes an LED bulb instead of an incandescent one.
The lamp looks pretty great, especially in the dark. Instead of the normal glitter look and feel, it looks like a series of small crystals put together. Sometimes the glitter may not move when you turn ON the lamp. If that's the case, all you have to do is give it a gentle shake and it will start moving around.
As it is battery operated, this one will not get hot and can be safely put in your children's room. It's also extremely simple to turn it ON and OFF. You can connect it to your iPhone or tablet and play your favorite songs. It's also very compact and can be taken with you when you travel.
| Pros | Cons |
| --- | --- |
| Very compact | Might not work smoothly with Alexa |
| Portable and can be moved about easily | |
| Comes with multicolored lighting | |
If you're interested, check the price on Amazon!
---
Conclusion
Finding a traditional lava lamp with speakers might seem difficult at first because of the rarity and high demand. Luckily, there are a few ones that are readily available and a few alternative ones that give similar lighting effects. As long as you do your research and check out customer reviews, you will be able to find one that gives you great value over time. Good luck and happy shopping!