Work lights, also known as task lighting, are used in various contexts to provide illumination—mainly, when it is dark and work needs to be completed.
Magnetic work lights are unique in that they may be easily positioned when in use, unlike traditional work lights that may require the use of a table or being hung.
When utilizing a magnetic work light, you can attach it to a metal surface on the wall or any other metal surface that attracts magnets. The convenience and efficiency of this sort of work light set it apart from the competition. 
This article will examine the best magnetic work lights currently available on the market. After going through the various categories of magnetic work lights, you should be able to make the best decision.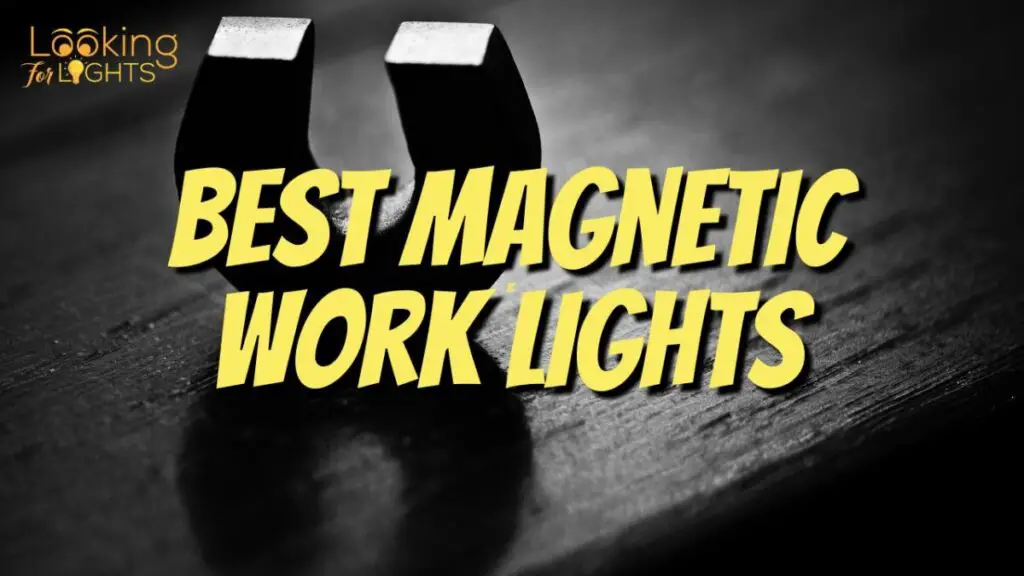 What Are Magnetic Work Lights?
Magnetic work lights are lighting solutions for tasks; this light includes a magnet as one of the features. This magnet can be used as the light's base or any other light element, allowing you to operate without holding it.
You can attach your light to any steel or metal object and position it so that you can see what you are doing. When it is dark and you need to work, the best way to work is with hand-free lighting, and magnetic work lights are always a good choice.
Types Of Work Lights
Work lights exist in a variety of brands, shapes, and sizes, and they can be used in a variety of situations. When all factors are taken into account, a person's choice of work light can be narrowed down to meet their specific requirements. In this section of the post, we will go through the many types of work lights.
1. Lamps
Lamps are used as work lights, and they come in different base designs. They can come in an electric form, which requires them to be plugged in before use. Other types of bulbs can also be recharged or powered by batteries.
2. Shop Lights
This lighting is mounted overhead in a specified area, such as a work area. The light shines over the workspace, providing the necessary illumination. It can also be hung while being used, which can be done using a hook, chain, or cable.
3. Clamp Lights
Another alternative for work lights is clamp lights. These lights can be attached to a table or any other flat surface. It has a clamp that can be opened and closed to hold the light in place. When used, they provide highly focused illumination, which is why they are so popular among artists.
4. Flashlights
When there is a requirement for illumination, flashlights are a frequent lighting application. They are primarily portable, so they are simple to use when the job is not too heavy. They are also available in various sizes and light outputs. You can select a flashlight that matches your needs, whether battery-powered or rechargeable.
Types Of Work Lights According To How They Are Positioned
Work lights with specialized application methods are available. For example, you may purchase one with a built-in handle that allows you to hang it. This is one method of determining if your work light is hand-free or must be held. 
That said, here are the two types of work lights based on how they are positioned.
1. Handheld
As the name implies, handheld work lights are meant to be held in your hands while using them. 
Handheld work lights are mostly compact. This is what makes them convenient to carry while working. It also works well when the area to be covered is small, such as when you only need to tighten a screw on your cellar door. Torchlights fall within this category. 
2. Self-Stand
These are work lights designed to be installed so that you do not have to bother about placement. Self-standing work lights make it possible to operate with both hands.
An excellent example of self-stand work light is the magnetic work light. The magnetic work light can be readily mounted on a steel surface.
Best Magnetic Work Lights
There are varieties of fantastic magnetic work lights that you can choose from. These work lights are not in the same category as regular or mid-range work lights. Instead, they are among the best work lights on the market. Here's a brief rundown of them:
1. Klein Tools 56403 LED Light
Portable work light with a rectangular shape integrated into the design. The magnet is located in the kickstart, and the work light has significant components that aid rotation. It also has a built-in kickstand to set the light
The kickstand is the portion that is placed on a magnetic surface when it is in use. The kickstand can swivel 270 degrees, while the work light can revolve 360 degrees.
You can tell that the ability to direct your light in any desired direction was taken into account while designing this work light. The Klein Tools 56403 LED Light is also a durable work light that survives any working environment without being damaged.
This work light is powered by a rechargeable battery with an indicator that alerts the user when the battery is running low.
It also allows you to manage the brightness of your work light, allowing you to reduce it when necessary and brighten it when necessary. Overall, the Klein Tools 56403 LED Light is an excellent magnetic work light option.
2. WEISIJI 45W Magnetic base LED Work Light
This is another great LED work light with nine individual LEDs organized in rows and columns. With an overall power consumption of 45 watts, it is large and has an even higher brightness rating.
It boasts a one-of-a-kind design that allows the user to rotate the light inside and outward to 120 degrees. The WEISIJI 45W magnetic base LED work light has a magnetic base that holds the light in a place with four ru-iron boron magnets.
This work light is made of metal properties, which makes it strong. The required control circuit is located at the base, including the power button.
It is also worth noting that this work light is waterproof and can be powered by two different currents. This means you can use it on alternating and direct current, and with a lumen rating of over 4,000, you will have an adequate supply of light.
With four distinct light modes to choose from, you may find the amount of brightness that best suits your needs. This is another fantastic magnetic work light option that will be of great use to you.
3. Innofox LED Rechargeable Magnetic Work Light
The Innofox LED rechargeable magnetic work light is more than meets the eye with an exterior design that includes a magnet and a hook that can be used to hang it.
This work light is small and lightweight, making it easy to transfer from one location to another. You will never have to worry about your work light sliding out of place with a firmly adheres magnetic port.
The outside surface is made of ABS plastic, making it waterproof and suitable for usage in moist environments.
The user can adjust between three light modes on the Innofox LED rechargeable magnetic work light, which provides outstanding light output.
It has an average battery life and can also be used to charge other devices. Due to its small size, you can easily transport it from one location to another.
The main disadvantage of this work light is that the battery may not last as long as you would want. Apart from the fact that in the event of a malfunction, you cannot replace the battery, this is another excellent option for your work light.
4. IlluminMax LED Magnetic Work Flashlight
Another minor work light that may be handled in one hand while working. This is an excellent option for up-close work that does not require a lot of friction, and it may also be configured to lay horizontally.
The neodymium magnet is housed at the base of this work light, which also features a unique design that makes it simple to fold the LED port onto the handle.
It is pretty light to handle, almost as if it does not weigh anything, and it is easy to transfer with just one hand. This work light features two light portals, one at the top and the other opposite the magnet at the edge.
This work light can rotate 270 degrees and has two light modes to choose from. It also comes with a metal hook that can be used to hang it for hands-free tasks.
It allows you to dim the light as needed and gives you an estimate of how long the battery will last. When the storms begin to lose their quality, you can simply replace them with new ones.
5. 3 COB Bright USB Rechargeable Work Light
This is an excellent alternative for individuals who want a huge work light that is both noticeable and efficient. The 3 COB brilliant USB rechargeable work light will provide optimum light output in a large work location.
This work light has three separate light panels, the third of which is located in the middle and serves as a flashlight. It also rotates 360 degrees.
As a result, the stand can be positioned in a variety of ways, while the magnetic quality ensures its stability. The stand can also be used as a type of carriage for holding the work light.
You can easily tell when your lamp is in the minimum or maximum power mode thanks to the 5 various lighting modes and power indicators. It can also be used as a charging port for other devices, but can only be charged with a Type-C charging connector.
Finally, this work light is a unique alternative that can be employed in a variety of locations other than a work site, such as night hangouts. It can be used in both damp and dry situations, and there is no risk of the work light being sabotaged if it comes into contact with water.
If you have been looking for work light and are confused, this list will assist you in finding one that fulfills your standards and requirements.
Required Lumen For Magnetic Work Lights
When using a work light, the amount of lumen necessary is determined by the task at hand. For instance, you may need to use it in your carpentry workshop or garage for mechanical work.
The size of these two spaces will differ and any work light you choose must be in respect to this. The brightness must cover all areas of your workspace. When this is taken into account, the lumens of your work light can range from 500 to 5000.
How Does Magnetic Work Light Work?
The work light has a magnetic base, which is included with most magnetic work lights. A magnetic work light is placed on a steel surface when in use, keep in mind that this work light can be wireless. 
When utilized, the magnetic base makes it simple to interchange positions and it can be programmed to light up different places at different intervals.
How is a magnetic work light better than other work lights
A magnetic work light demonstrates that invention may take many forms. Work lights are often either handheld or have hooks on the back to hang them over a workspace.
This is not the case with magnetic work lights, as they do not require as much stress. You merely need to discover a spot with steel qualities due to its magnetic foundation.
The main difference between a magnetic work light and a standard work light is the ease with which it may be positioned.
Related Post: Do LED Bulbs Work With Motion Sensors?
Factors To Consider When Purchasing Magnetic LED Lights
When deciding whether or not to use a work light, consider the following considerations to ensure a proper and productive work session.
When the task at hand necessitates the use of both hands and complete concentration, a handheld work light is not the best option. Let us take a look at some of the elements to think about while buying magnetic LED lights.
1. Nature Of Work
There are numerous reasons why a specific work light is chosen over another type. Simple domestic repairs and upkeep do not necessitate the same amount of light as building site operations.
Another example is a locksmith opening a basement door requiring a different work light than a mechanic working on a car engine.
While a locksmith specialist can operate with a handheld light or a headlamp, a mechanic would benefit from a magnetic work light, which is easier to use. Both people have different workloads and among other things, require different light outputs.
2. Price
Work lights come in a variety of prices, with some being more affordable than others. Because the purposes of these work lights vary, so does the price range.
A rechargeable work light with a lumen output of 300 will be less expensive than one with a lumen output of more than 300. The price difference can also be influenced by other aspects such as the base type, where it is placed, and how it is powered.
So it is always a good idea to stick to a budget and conduct thorough market research on various work lights before making a purchase.
3. Working Condition 
This is the stage at which you decide whether you'll be working inside or outside. Is it in a small town or the heart of the city, and will you be working all night or only for a few hours?
These are important questions to ask because they will aid you in making a final decision. If you will be working in a different section of town, such as a new location.
There may not yet be an appropriate flow of light connection in that region, leaving you with the dilemma of powering your work light.
The location may not be suitable for a rechargeable work light or the level of brightness required for the duration you will be working there. Your work light should be compatible with your working environment so that you can achieve your goals.
4. Light Output
Another essential factor is the brightness of your chosen work light. Lights that are too bright for comfort are thought to be detrimental to the eyes. Regardless of how cautious you are, if you choose a handheld work light that falls into this category. 
There is no guarantee that your grip on it would not become unbalanced, and as a result, divert the light in the direction of your eyes.
Self-stand work light with maximum brightness, on the other hand, is a superior alternative. As it gives the correct lighting and you do not have to worry about the light losing its focus. 
Getting a lower-brightness handheld work light and a high-brightness self-stand work light is the best way to go. You should also search for a work light with a dimming capability since this will allow you to adjust the light's brightness as needed.
5. Mode Of Powering Work Light
Work lights can be powered in a variety of methods, including batteries, wireless, and rechargeable. Some work lights can be powered in multiple ways, and it is only after you discover this that you can be assured of the work light you want.
When working on a project in an interior workshop, there's a chance you will be able to utilize an electric-powered work light because there will be outlets. An outdoor work location, on the other hand, is less likely to provide you with that, so you may need to limit your options to battery-powered work lights.
6. Features
There are work lights with many cool features that can help ease your workload. Each light has a unique design and features that set it apart from the rest. Work light with a magnetic base will do you so much good, especially if you need to use both hands. 
When you are trapped without power, work lights with charging capabilities can also help you charge your extra devices. Another fantastic feature of the work light is the battery indicator. Knowing when you are going to run out of light for your task is a nice thing.
You will not be caught off guard when working if the work light alerts you early enough that the light is about to go out.
7. IP And IK Rating
These two terms refer to the grade of your work light based on the environment in which it is intended to be utilized. Any light, whether it is a work light or a standard light, can be hampered by a variety of things.
Some lights are not meant to be used in dusty or wet conditions. Some lights, on the other hand, can survive some adverse conditions, you can tell by the indication on these lights.
The letters IK and IP, which stand for Impact Protection and Ingress Protection, are used to represent these classifications.
Ingress protection refers to the level of protection provided to the light against solid and liquid components, whereas impact protection refers to the protection provided to the light against an impact, such as when an object is dropped on it.
So learning about your work light's impact resistance will help you figure out where and when you can use it.
Final Thoughts
Magnetic work lights are necessary and by far the best choice of work light; they come in a wide range of sizes and designs. All you have to do is make sure that the factors to consider are taken into account while making your decision. 
You can never go wrong with a magnetic work light, whether it is for a home repair or onsite labor. We believe that after reading this article, you will be able to make an outstanding decision.