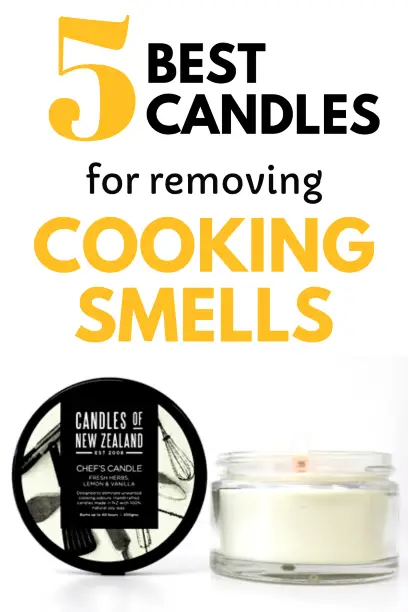 A kitchen is one of the best places to light up a scented candle. When cooking, it's only natural to face unpleasant onion and garlic smells and so a scented candle with the right fragrance can help your kitchen to smell amazing. It won't be as simple as lighting any scented candle as some may clash with the taste of food or produce very strong fragrances.
Food-based scents are always a great choice to use in kitchens but sometimes you may get over the fragrance very quickly. A cookie-smelling kitchen may smell great at first but over time, it may lose its effectiveness and you might even end up resenting it.
Instead, it's always better to get a neutral scent that will not only put you at ease but also help to eliminate any unpleasant odors. Here are the 5 best candles for removing kitchen odors and cooking smells.
The 5 Best Candles for Removing Kitchen Odors & Cooking Smells are:
Naturesway Crisp Citrus Deodorizer
Mrs. Meyer's Clean Day Soy Candle
Just Makes Scents Candles & Gifts Soy Candle
Our Own Candle Company Grandma's Kitchen Mason Jar Candle
Benevolence LA
Best Overall Scented Candle for Smoke Odor
Naturesway Crisp Citrus Deodorizer
If you are looking to get rid of odors caused by smoke, cigarettes or cooking a specific vegetable, then this is one of the most affordable and efficient odor eliminating candles you can buy today.
With its blood orange and lemon verbena blend, you can efficiently remove any smoke odor in your kitchen and create a pleasant environment for cooking all types of foods. This is also an all-natural soy candle that doesn't contain any harmful components, making it ideal for regular use.
It comes in a 12.5oz jar and recyclable packaging that makes it environmentally friendly and ideal for those who like to do their part for the environment. It also has an average life of 70 hours that ensures it is not only affordable in the long run but also offers excellent value for money.
If you're interested, check the price on Amazon!
---
Best Value All Natural Candle for Bad Odor Elimination
Mrs. Meyer's Clean Day Soy Candle
If you are looking for an odor-eliminating all-natural candle that gives you the best bang for your buck, then look no further than the Mrs. Meyers Clean Day soy candle. It comes as a pack of 4 candles with each candle lasting up to 35 hours.
The candle is made from renewable ingredients such as soy wax and vegetable wax, which have odor-eliminating properties. You can also choose multiple fragrances and the option to get a glass bundle or a glass bundle with a tin container.
Two of the candles in this pack come with soy wax and lavender blend whereas the other two have a soy wax and verbena blend. What's so amazing about these candles is that it makes you feel like you are in a beautiful garden and the fragrances never merge with the smell or taste of the food you cook in the kitchen. This is pretty expensive when compared to the other choices listed in this article.
If you're interested, check the price on Amazon!
---
Best Odor Neutralizer Soy Candle for those Who Have Pets
Just Makes Scents Candles & Gifts Soy Candle
Having a pet in the house is truly one of the most joyful experiences you can have in your life. However, they also tend to stink the place and this can be very nauseating when it happens in the kitchen. Luckily, this candle does amazingly well with eliminating pet odors.
It efficiently eliminates the odor thanks to its unique formulation and comes with a wonderful original spice fragrance to boot. You also have the option to choose a fresh linen scent if spices are not your cup of tea.
It comes in an 8oz. jar and can burn for up to 40 hours making it a great value product to invest in. With a self-trimming cotton and paper fiber wick, you also don't need to regularly trim it which makes it very convenient to use regularly. This is the cheapest of all candles chosen in this list.
If you're interested, check the price on Amazon!
---
Best Long Lasting Spice Scented Candle
Our Own Candle Company Grandma's Kitchen Mason Jar Candle
This one is not an odor-neutralizing candle but it does wonders in masking cooking smells from your kitchen and maintaining a fresh warm spice fragrance throughout the room without being overpowering. Its wonderfully aromatic fragrance transports you back to your grandma's kitchen just as its name suggests and will surely provide a great experience for anyone who walks into the kitchen.
Its best aspect is its amazing burn time of 100 hours making it a great value scented candle to buy. With a patented wick straightener, you can ensure that it burns properly every time and last as long as intended. You do have to trim the wick regularly to 1/4 inches though but it's a small price to pay.
What's amazing is that due to the unique blend, it smells a little bit different for everyone. For some, it smells like fresh linen and apple pie whereas for others it may smell like cookies and baked goods. This is a very affordable candle.
If you're interested, check the price on Amazon!
---
Best Premium Scented Candle for Masking Odors
Benevolence LA
If you are looking for a premium scented candle that combines both style and substance, then this one might be the one for you. With a matte black container and packaging, this one is a conversation starter for sure.
It comes in two different sizes: medium and large and with different fragrances. For the kitchen, you can check out the Bergamot and Jasmine scent as it's a neutral aroma but if you love cookies, there is a gingerbread cookie aroma option too.
The fragrance is unbelievable with hints of bergamot, mandarin orange, black pepper and black currant with jasmine, lily of the valley, cedar and more. These candles are also non-toxic and made from soy wax. They have a burn time for a minimum of 45 hours making the price tag worth it in the long run.
If you're interested, check the price on Amazon!
---
Using Candles in the Kitchen Safely
When it comes to using candles in the kitchen, there are a few things to keep in mind to ensure that there is no fire risk.
Never leave the candle burning when you leave the kitchen.
Never keep it near you so that your hair doesn't accidentally catch fire.
Always keep it in a place where your kids or pets cannot reach it.
Make sure that there are no flammable objects nearby.
Never burn more than two candles at a time as the fragrance will become overwhelming.
Always use a wick dipper or a snuffer to extinguish the flame.
Extinguish the flame after four hours.
Do not keep it in a place where it is exposed to direct sunlight.
Also, remember to keep the kitchen well ventilated and always follow all safety precautions.
Conclusion
Of these 5 candles for eliminating kitchen odors and cooking smells, I would choose the last one, Benevolence LA. Even though it's the "premium" choice it's pretty cheap especially compared to a Yankee candle. The reason I choose the Benevolence LA is that it smells amazing and looks fancy. I'm even impressed with the cute little box it comes in. You really can't go wrong with that candle!
---