There are so many different types of candles you can buy today to satisfy whatever preference you may have. From traditional paraffin wax candles to all-natural beeswax candles to luxurious ones like the Yankee candles, you have a lot of options. The Yankee candle, in particular, is one that many are curious about.
You may have wondered why Yankee candles are so expensive and if they are worth it. These candles are expensive because they are all-natural and come in a variety of fragrances. Based on their ingredients, they are also worth their price.
But are they expensive only for the above reasons or is there anything more to them? Let's dive into what these candles are and why so many people from all over the world love them.
Why Yankee Candles Are So Expensive & Are They Worth It?
Yankee candles are so expensive because when compared to other well-known brands they are superior in terms of quality, longevity, scent, and presentation. Even though Yankee candles are expensive, you are getting more value for your money.
When it comes to candles, the Yankee Candle Company is one of the most recognizable brands in the industry, and for good reason too. Here are some of the reasons why they are so expensive: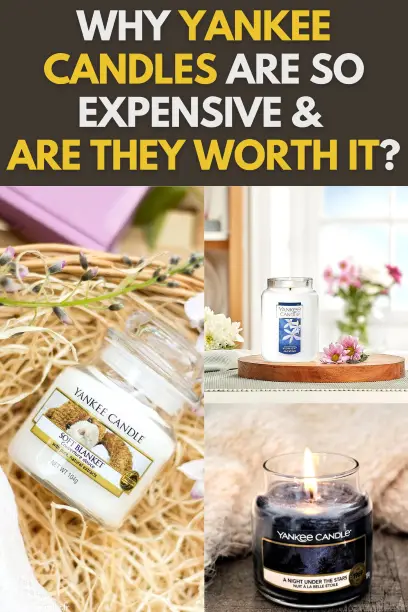 Burn – One of the biggest reasons for the Yankee candle's popularity is because they burn evenly until the end of the jar, unlike other candles which stop burning near the bottom. They are made to last longer than traditional candles.
Some candles burn very quickly and therefore don't offer much value when it comes to money. But, not the Yankee Candles. They burn at a far slower rate than others and the wick that comes with the candle is also of high quality. ,. So, overall it will get you great value for money over time even if you put down a hefty amount in the beginning.
Variety – Yankee candles come in a wide variety of fragrances to appease any preference you may have. No other candle manufacturer comes close to the diverse scents offered by the Yankee Candle Company. Every year, new fragrances are released and some of them are extremely unique too.
The "Christmas at the Beach", "Warm Woolen Mittens", "Cherries on Snow" and "North Pole" are some of the most unique and bizarre scents you will ever find coming from a candle. So, if you live in a cold place, you can have your home smelling like a beach or if you are living near the woods, you can buy one that smells of mountains.
Natural Ingredients – All Yankee candles are made out of natural ingredients and are not tested on animals, which makes them a great reason to support your purchases. They are quite expensive because of the need to source natural products that don't harm the environment. For this reason, any all-natural candle will always be more expensive.
Moreover, since they don't have toxic or harmful ingredients in them, they will also be safe to have in your home. Yankee candles are also known to have a rigorous testing process in which each of their products is screened and reviewed before they are brought to the market.
Seasonality – One of the biggest reasons for their popularity is due to seasonal sales. They are most prevalent from Thanksgiving to Christmas, making them more available during the holiday seasons. Of course, you can buy them all around the year, but they are most expensive during holidays.
A lot of people perceive these candles to be seasonal purchases and end up buying them only during holidays. Fortunately, there will also be sales going on during this period. So, if you come across such sales, you can great value for the candles.
Brand – From the design of the boxes they come into their presentation, they scream brand value. Perception plays a very important role when it comes to expensive products. Two pairs of jeans for instance can be made out of the same materials and quality but the one made by a popular brand will always be more expensive.
However, Yankee candles not only have great brand recognition but they are also always very high-quality products that offer great value for money. It's an unbeatable combination that gives the company a cutting edge when compared to its competitors.
Are Yankee Candles Worth it?
Are Yankee candles good value for money though? Yes, they are. When you compare their prices to other well-known brands and look at each aspect such as quality, longevity, scent, and presentation, you get more value for your money.
When you buy it, you might look at the price and hesitate. However, when you look at how long these candles last and the amount of scent they can retain over time, Yankee candles outperform most other candles. So, you are getting more value for your money.
How to Properly Take Care of Yankee Candles?
Here are a few ways in which you can ensure you get the best value for your candles:
Always trim the wick to 3mm before you light up the candle.
Avoid burning the candle for many hours continuously. Ideally, you should use them only for three hours at a time.
Extinguish the flame properly either with the lid, a snuffer, or a wick dipper.
Let the candle cool down between uses. A good rule to follow would be to let it cool for at least a few hours before using them again.
Store them properly in a dry and cool place for better longevity.
Conclusion
If you love scented candles and are willing to splurge on some of the best fragrances in the market, then you are very likely to become a huge fan of Yankee candles. They are very high-quality candles and offer so many different scents that your head might start spinning when you read the list.
These candles feature a deadly combination of great presentation, amazing fragrances, longevity, and amazing value for money, making them one of the best-scented candles on the market today.