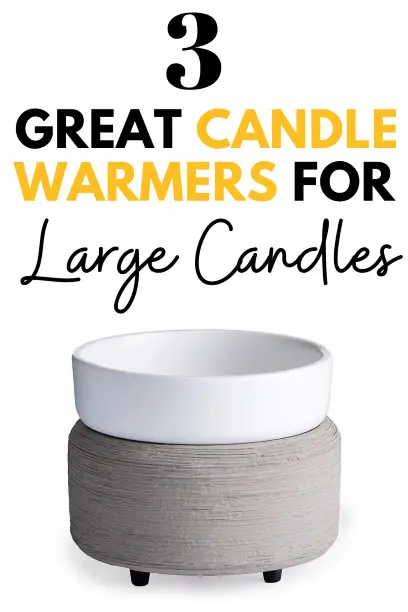 With the advancement in technology and increased awareness about various things, there are creative ways of using the existing solutions without having any major impact on the surroundings.
In the same way, candle warmers are incessantly changing the traditional ways of lighting the candles and replacing the entire candle when the wick finishes off.
Here is a quick and easy guide about candle warmers and a list of 3 great candle warmers for large candles.
The 3 best candle warmers for large candles are:
Kobodon Ceramic Candle Wax Warmer – most versatile
CANDLE WARMERS ETC – best overall design and style
BESTINNKITS Heating Plate – waterproof and compact
How to Choose the Right Candle Warmer for Large Candles
Buying the right candle warmer may seem like an easy task. However, there are a few things you need to consider to ensure that you find the right one for your needs. Here are some of the main factors to remember while buying a candle warmer for large candles.
Type
There are mainly two types of candle warmers. One where you place the candle on top of a plate and the other where you can place wax cubes in a bowl placed on top of the warmer. If you prefer candles over melts, then the former is what you need to look for. Do note that not all candle warmers will allow you to use large candles. Some are designed for smaller candles and so always make sure the candle warmer you buy can accommodate large candles too. If the candle warmer has a closed design, then you need to know the size of the chamber before buying it.
Size
Candle warmers also come in different sizes. Some prefer to buy multiple small candles whereas others prefer to buy a few large ones instead. If you like large candles, then it is important to see the size of the warmer before buying it. A small warmer for instance will not be able to hold a 16-ounce candle and therefore will be useless to you if you like big candles.
Safety Features
Although all candle warmers are safe to use due to the lack of an actual flame, having more safety features is always a good thing. Some warmers come with a closed lid or a closed design to protect you from getting burns on your body. However, not all of them may be suitable for large candles. Other safety features to look for are grounded power cords, automatic shutdown, and heat-resistant bodies.
Portability
If you love taking your candles with you when you travel to different places, then portability is something you need to look at. If you use only large candles and want a portable candle warmer, then an open design would be a lot more convenient than a closed one. The only thing you need to keep in mind when traveling with a portable candle warmer is to make sure it is cool before you keep it in your bag.
Durability and Functionality
Candle warmers must be durable and have a longer life to create a long-lasting fragrant effect inside your room. This will cut off the hassle of changing warmers now and then. Candle warmers offering other purposes such as lighting, besides melting candle wax, are highly desirable. It is because such candle warmers provide a nice and beautiful glow in addition to the mesmerizing odor of the candle.
Design and Wattage
While buying candle warmers, it is good to look at the design and style of the candle warmers because they shouldn't look odd in the overall classic decor of your house. They should add beauty to the room. The wattage of the candle warmer is also an important thing to consider while buying one for your home. It is necessary as it will determine the time and heat required to melt the candle wax. For example, a large candle will need a candle warmer of high wattage. 
Heat Speed
When it comes to using large candles, the heat speed of the candle warmer plays an important role. If you like using both small and large candles, then having the option to control the heat would be good. Some candles also require more heat to melt than others based on the type of wax it uses.
3 Great Candle Warmers for Large Candles
1. Kobodon Ceramic Candle Wax Warmer – most versatile candle warmer
This electric warmer offers an excellent solution for solving two purposes, candle wax warmer and fragrance diffuser. It significantly reduces the indoor pollution that happens due to the burning of candlewick. You can easily add candles to the warmer or simply put the wax melt and let the warmer do its work. 
This versatile candle warmer is a great solution for all kinds of candle sizes and rooms. It comes with a simple on-off roller switch, a melting plate, and a removable dish to put wax melts. Turn your room into a pleasant smelling space with this 2 in 1 wax warmer and fragrance diffuser to freshen up your homes, offices, kitchen, or garages. 
You also get a 39" cord and a 3" diameter warm plate which will be good enough to place a large candle on. The length of the cord will also allow you to plug in the warmer to an outlet that is far from the place where the candle is kept. This may be a problem if you have young kids or pets in the house. 
| Pros | Cons |
| --- | --- |
| It's quite versatile and can be used for both candles and melts | Not suitable for three-wick candles |
| 2 in 1 wax warmer and fragrance diffuser provides good value for money | The body can get very hot |
| You get a risk-free 30-day guarantee | |
| It comes with an elegant and vintage look | |
| The price is quite reasonable for its quality and efficiency | |
If you're interested, check the price on Amazon!
---
2. CANDLE WARMERS ETC Pluggable Fragrance Warmer – best overall design and style
This decorative plug-in candle warmer is an easy-to-use and efficient solution for all kinds of fragrance requirements. It works perfectly with candle wax melts, essential oils, and tarts.  It comes in more than 30 designs to suit all themes of interior decor. The candle warmer can be used in vertical or horizontal outlets by simply rotating the base of the plug. This makes it extremely convenient to have especially if you want to keep it far away from children and pets.
The candle warmer is very stylish with a ceramic body adorned with gold freckles that impart a royal look to the warmer. If you are a lover of traditionally lit candles, then it is your way to go. This candle warmer provides a warm glow that resembles a candle. However, there are no worries of indoor air pollution or deposition of soot rising from the burning candles. 
It is an ideal choice for above-the-counter outlets in congested spaces. It uses an NP7 warming bulb which is included in the warmer package so that you don't have to look for a compatible bulb that fits and provides the desired effect in the candle warmer. 
| Pros | Cons |
| --- | --- |
| Mimics a lit candle | It's quite expensive |
| Made with high-quality materials Its plug-in functionality helps to save space | Requires a 15W bulb to work as normal bulbs won't be efficient enough |
| It comes with a wide variety of design options. | |
If you're interested, check the price on Amazon!
---
3. BESTINNKITS Candle Wax Cup Warmer Heating Plate – best waterproof and compact wax warmer
This waterproof candle warmer is a perfect thing for satisfying multiple requirements like heating coffee mugs, candle wax cups, and a heating plate. This makes it very versatile when it comes to functionality and provides great value for its price. It comes with an automatic ON and OFF switch so you don't have to pay much attention to the temperature of the material to be warmed. It heats the beverages and candle wax to a certain desirable temperature of 131 degrees Fahrenheit. 
If you like using large candles, this might be perfect for you as it can also accommodate a 3-wick candle, thanks to the 3.9" diameter plate. The heating plate of the warmer is coated with a thermally conductive glass film that makes it easy to clean and drops the risks of spillage. Certified by FCC and UL, it is extremely safe, reliable and comes with an additional 2 years of customer support. It comes in several colors that can easily match with the surroundings and don't look odd. 
It is good to use and can be one of the best choices for gifting as it is suited for a variety of purposes. The built-in-gravity induction switch can sometimes cause problems if the weight of the mug is not enough to activate the switch. As per the manufacturer, the object you keep on it needs to be more than 0.8lbs or 13oz for the gravity induction switch to work.
| Pros | Cons |
| --- | --- |
| Easy-to-Use | It may be warm to touch |
| It comes with a built-in gravity induction switch | Limited colors |
| It comes with a beautiful and compact design | |
| It features a waterproof design and is very easy to clean | |
| You can warm candles and even mugs of coffee, tea, milk or cocoa with it | |
If you're interested, check the price on Amazon!
---
Frequently Asked Questions
Will all candle warmers work with large candles?
No. Candle warmers come in many different sizes, shapes, and designs and so each one will be different from the other. Does this mean that you need to buy multiple candle warmers if you want to use different-sized candles? No, it doesn't.
Some candle warmers allow you to place both large and small candles and even melt. Lantern candle warmers come with a closed design and so might not fit a large candle inside. The best way to ensure that a large candle will fit is to check out the design and size of the candle warmer and compare it with the candle you want to use. Also, go through the customer testimonials to figure out if large candles can be used.
How long does it take for a candle warmer to melt a large candle?
It depends on the type of candle warmer you have as some may have better heating times than others. Some allow you to choose from different temperature settings while others don't have that option. A large candle typically requires more heat to melt and give off a good fragrance. When using a candle warmer, it may take from two to four hours to melt an entire candle. It may take less or more time based on the size of the candle, the type of candle warmer you have as well as the type of wax it has. A candle warmer lamp for instance will take less time than a candle warmer plate.
Do large candles have a stronger fragrance?
Typically, a larger candle will have a stronger fragrance when burned. The more surface area there is for the melted wax, the better scent throw you will get within a physical space. The type of candle also matters as a three-wick candle will burn faster than a smaller candle with fewer wicks. Usually the more volume a candle has, the more wicks it will have. To best utilize the three wicks, you need to burn it with a proper flame. However, a candle warmer can also be very efficient as far as the scent throw is concerned.
Conclusion
Of these three candle warmers for large candles, I really think the BESTINNKITS heating plate is the obvious winner. It looks great and the open design allows it to hold the largest of candles, even 3 wick ones. To top it off, this candle warmer is very easy to clean, and its waterproof technology means you don't have to worry about damaging it.