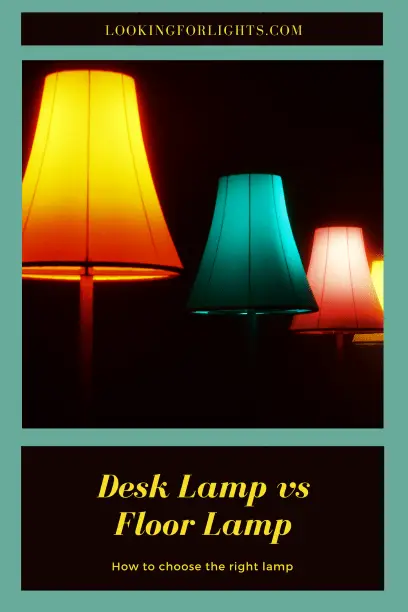 Buying a lamp is pretty much a straightforward process and not an arduous one. However, if you don't analyze the different types of lamps before you buy one, you may end up purchasing the wrong lamp and spending more money in the long term.
When buying a lamp, the first thing you need to decide is whether you need a desk lamp, a table lamp, or a floor lamp. All of them, despite being versatile, are designed for specific purposes and so to get the most value for them, it is important to know more about them.
Desk lamps are usually small and used for reading or writing. Table lamps are a little bigger and used for decoration and creating plenty of light. Floor lamps are generally as big and bright as a table lamp, however, the base of the lamp extends much further in order to reach the floor instead of resting on a table.
Here, we will be taking a look at what makes all these lamps unique and how you can choose the right one for your needs.
How to Choose the Right Lamp? Desk vs Table vs Floor
As mentioned above, each of these lamp types excels at a specific purpose. Do note that there are a ton of different lamp types (especially subcategories). Because of this, we will be covering only the more popular or unique ones.
1) Desk Lamps
The main purpose of desk lamps is to provide illumination to aid reading and they are designed to do just that. As you may have inferred from the name, they are mostly placed on desks. With flexible arms and pivoting heads, you can control where the light falls making them perfect for reading or when you are working.
LED Desk Lamps – These are the most efficient ones when it comes to power consumption and will give you an amazing bang for your buck. LED bulbs can last for several years before you need to change them and never get hot, making them ideal for tasks that you need to spend a lot of time on. So whether you want to finish reading your novel or work in your garage or your shop, these will be ideal for your needs.
Bankers Lamps – They are called bankers lamps because they were primarily used in banks due to their practicality. They are usually short, come with a horizontal lampshade, and take up very little space. You can tilt the head up or down based on how much light you want on the surface. However, they aren't adjustable and don't come with modern technology. A lot of people love them due to their timeless look and feel apart from how compact they are.
Adjustable Desk Lamps – These are fully adjustable as they come with flexible arms, swiveling bases, and various sectional joints at which you can bend them based on your needs. These lamps are highly versatile when it comes to usage as you can direct the light to any position nearby. This makes them the best type of lamps to use when you need to do any detailed work such as electrical work on gadgets and tools or in your workshop.
2) Table Lamps
Table lamps have been used in living rooms, bedrooms, and a variety of other places in both commercial and residential properties for a very long time. All of them come with lampshades and in most cases, they are flared at the bottom to allow the light to evenly spread out. Some of the different types of table lamps you can buy today are:
Nightstand/Bedside Table Lamps – These are usually short as they are designed to be placed on your bedside table and to allow you to easily access them from your bed. They are also ideal for reading books and magazines before you go to sleep. A lot of people also fit their bedside table lamp with a dimmer to adjust the brightness of the light. This way, one can turn the lamp on and read while their partner will be able to sleep without too much light around.
Modern Table Lamps – These come with a modern aesthetic and are available in a wide variety of designs to match any décor you may have in your house. Most of them use clean lines and bold shapes in their design with either angular or curved profiles. They are just as efficient as any other type of lamp. However, their visual flair is what sets them apart from the other table lamps.
Crystal Table Lamps – Crystal lamps are unique as a good portion of their body is made out of cut crystals. Due to their crystal base, the light that emits from the bulb sparkles and shines due to the reflection. They are perfect for elegant and traditional interiors to create a sophisticated and classy atmosphere. They are ideal for living rooms, libraries, and even your den.
3) Floor Lamps
Floor lamps are exactly what they sound like. They are tall and come with a wide base and a lampshade. These lamps are usually a drum or barrel shape. The lamps are narrow at the top and become wide as you go down. The light is emitted both downward and to the sides making them ideal for lighting up large spaces. They also come in a wide variety of different types such as:
Arc Floor Lamps – These come with a curved arc design where the pole arches over with the shade at the end. With a contemporary design, they are ideal not only for being an instrumental part of the décor but also make for amazing reading lamps especially when placed to the side of a sofa. Thanks to the overhead lighting, you will be able to get the light evenly spread all over the sofa including both ends and the middle.
Shelved Floor Lamps – These come with small shelves and can double as a handy place to keep small books, TV remote, magazines, and pens while providing great lighting. They come in many different types and some even come with retractable trays. If you are looking for a multipurpose floor lamp, then these might be the ones you are looking for.
Tiffany Floor Lamps – Tiffany floor lamps are a unique type of floor lamps that utilize stained glass on their shade to provide beautiful colored lighting. They come in both traditional and modern designs and are often used for creating a certain ambiance in the room. Due to their unique visual flair, they are also quite expensive when compared to other lamps.
Conclusion
Ultimately the type of lamp you should buy will depend on two main factors, namely your purpose and your budget. Each of these lamps has many subtypes that vary in terms of design, cost, and functionality. Once you have decided on your main purpose, you can then pursue through the various subtypes until you find one that meets both your requirements and budget.