Do you want to improve the efficiency of lights in your home but would prefer something that gives off a traditional ambiance? Then, halogen bulbs are your best bet.  
Halogen bulbs, like traditional bulbs, use a tungsten wire to produce power. The tungsten wire then disappears as the light starts to glow. Because halogen bulbs and traditional bulbs aren't the same, they function in different ways too.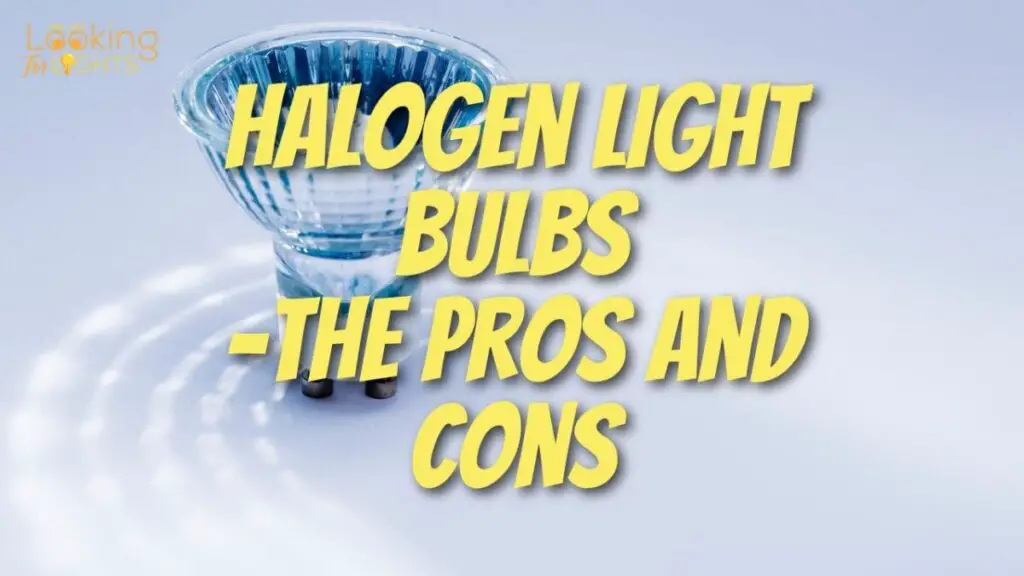 Halogen bulbs are preferred by most people because of the clear, sharp light that makes a room look bigger and gives an appearance of an extra-bright color. However, there seem to be more questions on what more one can love or hate about halogen bulbs. 
If you have always wanted to use halogen bulbs but are confused about what or what not to expect from them, here's a comprehensive pros and cons guide for you!
| Pros of Halogen Bulbs | Cons of Halogen Bulbs |
| --- | --- |
| It is cheaper | Weak bulb filaments |
| Doesn't have dazzling lights | Generates a high amount of heat |
| Emits constant light flow | Causes sunburn |
| Quite Versatile | Not environmentally friendly |
| Has a long lifespan | |
How Does Halogen Light Bulbs Function? 
When the halogen gas and the tungsten chemical merge, the result is a chemical reaction called the halogen cycle. This can enhance the bulb's lifespan and improve the bulb's clarity. 
With this chemical reaction, the filament can function at a very high temperature compared to regular incandescent bulbs with similar power and lifespan.
Halogen bulbs are mostly used in motorized vehicles alongside LED and HID bulbs. Several factors suitability, bulb efficiency, light intensity, etc can affect the choice of lamp you opt for.
Is There a Difference Between Halogen Bulbs And Incandescent Bulbs?
When trying to choose a home light, people do find it difficult to distinguish between a halogen bulb and an incandescent bulb, and this is because of how similar they both are. 
A halogen bulb has a halogen gas added inside its bulb. This gas has an interesting feature: they are combined with tungsten vapor while an incandescent bulb has argon gas in it.
In most cases, people prefer halogen bulbs because they tend to prevent the build-up of soot inside the bulb (usually the black spot inside a used incandescent bulb). 
Incandescent bulbs, on the other hand, come with tungsten-made filament. The amount of heat is produced, the more soot is deposited inside the bulb. 
Contrary to what happens with incandescent bulbs, there is a chemical reaction that aids the halogen to carry any tungsten soot back to the filament when halogen gas gets hot. This reduces the heat and enhances the durability of the filament.
Pros of Halogen Bulbs
Now, Let's get on to the main purpose of this piece: what are the benefits of using halogen bulbs? Find out below:
1. It Can Penetrate The Fog
Many people who plan to travel or move in foggy fields love to use halogen bulbs. That's because halogen bulb lights have high intensity, which means they can pass through thick fog. 
In all, halogen bulbs are great for going on adventurous road trips.  
2. Non-Blinding Light  
As stated earlier, halogen bulbs emit light that can penetrate a thick fog. Even so, this light isn't as blinding as that of LED bulbs. You can even use them as reading lights.
Using dazzling lights can blur your vision, which isn't good. If you use LED-lights as car lights, they can obstruct the view of other road users, which may cause avoidable road accidents.   
Although LED and some other lights can save about 6-7 times the energy and do not generate excessive heat, they can emit very blinding light.
3. It Is Less Expensive
Compared to LED, HID and other light bulbs, halogen bulbs are much cheaper. It's easier to maintain; you need to spend a ton of money replacing all its parts. All you need to do is replace the bulb once the filament gets damaged. 
LED bulbs are very expensive, the maintenance practice is expensive, and if damaged, you need to change the entire box. When it comes to maintenance, Halogen bulbs offer clear lighting and cheap maintenance.
4. It Can Serve Various Purposes
Halogen bulbs are very popular with motorized vehicles, such as cars. In other cases, they can also be used for outdoor lighting, boat lighting, home lighting, and even office reading lamps. 
One other thing that distinguishes a halogen light from others is its small and variable shape which makes it the best choice for directing light into the beam.
There are also dimmed halogen lights suitable for homes and restaurants where a different selection of light levels are required. Halogen bulb colors are also very realistic, making them a great lighting source for retail stores, factories, fashion shops, printing, and jewelry shows.
5. Halogen Bulbs Last Longer
Halogen bulbs last longer because the filament in them is durable. In fact, a halogen bulb can still be functioning after you have purchased two different incandescent bulbs; it can last twice the life of an incandescent bulb. 
6. Great Source of Outside Lighting
Because halogen bulbs are quite energy-efficient and brighter, you can use them to illuminate your outdoor space(s). 
They are also fit for tracking and recessed lighting. 
7. Safer to Handle
When they are in a cool state, halogen bulbs are much easier and safer to hold. 
More Pros of Halogen Light Bulbs
Produces constant light flow that is maintained as long as the bulb is still working 
Bright white color with natural color reproduction. It has an outstanding light quality with excellent color reproduction (Ra=100)
Impressive light efficiency. It produces more light with less energy 
Compact size, a simple adjustment 
It can be adjusted easily from 0-100% brightness level.
You don't need to spend a long time waiting for the light to come on.
Cons of Halogen Bulbs
Here are some downsides of using halogen bulbs:
1. Halogen Bulbs Generates High Heat
The fact that halogen bulbs are incandescent bulbs means that it has a strong light intensity. It also shows that they are one of the best bulbs for cars. However, the strong light intensity makes the halogen generate excessive heat to the extent that the bulb box begins to melt. 
The main reason for the high heat generation is that to function properly, halogen must operate with a higher temperature than an ordinary bulb. The small size makes it gather heat on a very small casing surface, closer to the filament. In addition, due to the high temperature and high heat generation, halogen can cause fire accidents.
2. Halogen Bulbs Consumes Excess Electricity 
Not only does it emit lots of heat, but halogen bulbs also need a high amount of electricity to function. This means that if you're using a battery with low storage capacity, halogen bulbs are not for you. 
Usually, halogen bulbs consume about 55 to 100 watts. That isn't the case with HID bulbs where you need just 35 watts of electricity to get a brighter light flame; you also have the opportunity to choose from white, yellow, red, and blue color variants. 
Nonetheless, if you're choosing HID bulbs over halogen bulbs, prepare to spend more money on each unit of light. Asides from being expensive, HID bulbs cannot guarantee you direct bright light.
3. Not Environmentally-Friendly
As mentioned earlier, halogen bulbs generate and consume a high amount of electricity. This leads to the emission of carbon dioxide into the air. 
While the bulbs do not particularly emit these harmful gases, constant usage of them can pollute the air. So, although we can agree that using halogen bulbs does not make the immediate environment greener, it can pose a huge negative effect in the background. 
3. Filaments Break Easily
If you choose the halogen bulb, you will also face challenges in maintenance. The reason is that the filament used to light the bulb will break faster than you expected. Also, getting a replacement filament is very expensive. Halogen bulbs are not suitable for people who like bulbs with practical maintenance. 
To replace a damaged part of a halogen bulb, you need to choose components that are compatible with the bulb, and to decide this, you will need the help of an expert. 
In case of filaments breakage, ensure to correctly dispose of the pieces of the damaged glass and clean the floor thoroughly. 
5. Can Lead to SunBurn
Different from what many people already know, halogen bulbs can cause sunburn due to the high light temperature it emits. 
That means, sitting for long-durations directly under your halogen bulb can damage your skin. You can use shades to cover the light and prevent it from harming your skin. 
See Also: 7 Reasons Incandescent Bulbs Are Dangerous
Final Thoughts
From the information above, one can see that there's a lot to gain from using halogen bulbs than to lose. Nevertheless, choosing whether to buy halogen bulbs or not depends on the specific needs of your home or immediate environment.
When shopping for a halogen bulb, there are certain things to consider. From the voltage, base type, brightness, shape, and size of the bulb, find out what you need and see if halogen bulbs are what you need. 
Do you think there's something else we should know about halogen bulbs? Let's see it in the comment!