LED light bulbs are the newest generation of light bulbs and come in a wide range of designs and functions. People use them as a source of lighting for a variety of reasons. One of the coolest of which is the decorative application. 
When one chooses to paint LED light bulbs for aesthetic reasons, it may appear unusual, but there is so much more you can do with your lighting application. Painting is one of them. It gives the light output a whole new look while also making it unique.
The availability of colored LED light bulbs may make painting LED light bulbs seem like a stretch. However, painting LED light bulbs offers no safety risks and has a positive side.
If done correctly, it makes the lighting cooler and simply gives your home a fresh look. You can choose to paint your white LED light bulbs for a unique effect.
Are you considering painting your LED light bulbs, or uncertain about the possibility? Not to worry, this article was written to provide you with sufficient knowledge on painting LED light bulbs.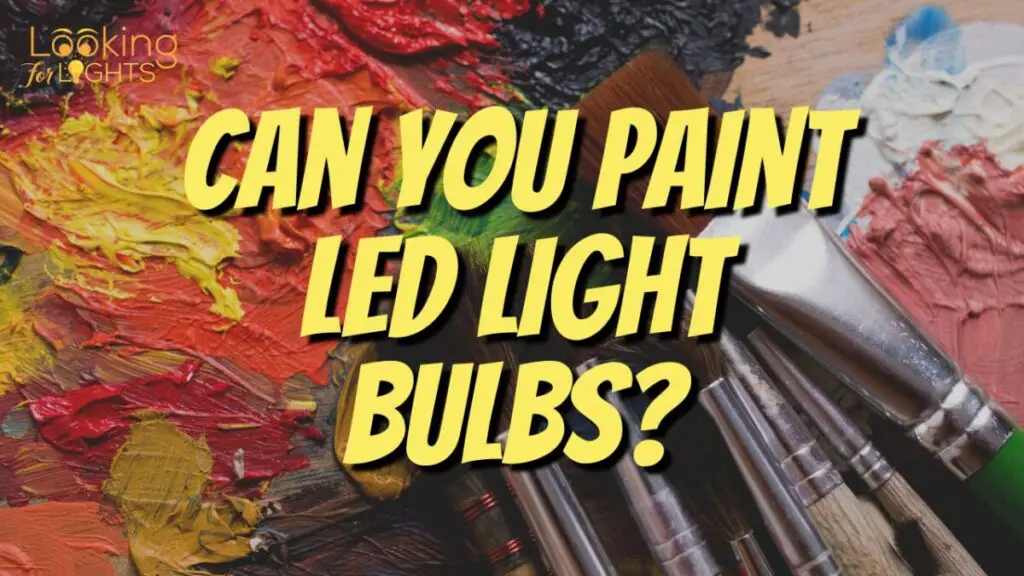 Is a painted LED light bulb still useful?
You might consider painting your LED light bulb to give your bedroom a new look, but then you ponder renovation and realize you will need to replace the lighting as well. 
Before you toss out the painted LED light bulb, consider how useful it could be during a housewarming celebration. Painted LED light bulbs provide that distinctive glow in any environment where they are used. 
Also, you can place it in areas of the house that are intended for relaxing activities, such as the sitting room or even the kids' room. As a matter of fact, they can be used in a variety of settings, all you have to do is figure out where to put them.
How to Paint LED Light Bulbs
To get a decent outcome while painting your LED light bulbs, there are a few steps to follow. You do not want to waste time painting your LED light bulb only to have it turn out looking nothing like you imagined. This section will walk you through the step-by-step guide to painting your LED light bulbs.
Step #1: Decide on What You Want the Outcome to be 
This is where you choose whatever type of bulb you wish to paint. You must also be certain of how you want the bulb to appear when painted. Whether you prefer it completely covered in paint or you just want to paint just a small portion of it, you decide. If you want a diffused look, you will need to sand the bulb using sandpaper briefly.
Step #2: Choose and Clean the Light Bulb
If you have not already done so, now is the time to get your light bulb ready for the painting process. You must clean your bulb of debris and oil for a nice job. You can do this with paper towels or a clean cloth dampened in alcohol. 
After the bulb is clean, you can move on to the next step.
Step #3: Choose the Right Kind Of Paint 
You would want to choose from a variety of heat-resistant paints. This will enable you to avoid instances in which your bulb overheats and blows. 
Additionally, avoid water-based and combustible painting solutions like oil paints at all costs as they often constitute a safety danger. Ceramic paint formulas for glass are always a better choice.
Step #4: Apply a Primer to the Bulb
This is applicable if you want your LED light bulbs to have an opaque look. Here, you apply a paint primer to your bulb before you begin painting. That will aid in the paint's adhesion to the bulb.
Step #5: Start Painting
At this point, you can begin painting your light bulb. It is best to use a thin coat throughout the procedure. That's because applying a thin coat two or three times to the bulb will appear better than applying a thick covering. 
Ensure to cover all of the angles of the bulb so that no part is left exposed, and that the base of the bulb is protected from getting discolored with paint. If the paint comes into contact with the bulb's electrical foot, it can cause damage.
Step #6: Allow the Paint to Dry
Before inserting your light bulb back into the switch, make sure the painted LED light bulb has had enough time to dry. Check to see if the paint has dried and if the finished product meets your expectations.
Sometimes, you may not get the exact color you planned on at the end of the trial. Once that happens to you, try to add extra paint or repeat the entire process, but this time around, try with a different bulb altogether.
Can you Paint LED Light Bulbs with Acrylic Paint?
Acrylic paints are recognized to be water-based. Therefore, they are less likely to be near the top of the list of choices. Since it is a water-based painting formula, the heat produced during light creation may cause the light bulb to evaporate or burn. 
Nonetheless, you can utilize them to paint LED light bulbs, especially if you will be needing the bulb for a short period.
What Kind of Paint Can I Use to Paint my LED Light Bulbs? 
When it comes to finding painting formulas for your LED light bulb, there are a lot of options to try out. Let's have a look at some of them below:
Spray Paint
Heat-resistant spray paints are great for painting LED light bulbs. Before using one, it is best to double-check that it is not water or oil-based before buying it.  
While painting with it, you must be careful not to taint surfaces outside of the painting area. Your bulb must also be dust and grease-free.
Brush-On Paint (Ceramic Paints) 
Brush-on paints, such as ceramic paints, are a popular option for painting LED light bulbs. Choose ceramic paints over water-based paints like acrylic whenever possible because they are designed for glass surfaces.
Paint Pen (Sharpie Marker)
These markers come in a variety of colors and are small enough to fit in your pocket. Pain Pen is your best bet if you are looking for a cheaper painting solution. 
It is also incredibly versatile and fun to use because you can use it to draw shapes and designs on your light bulbs. When using a Sharpie pen, there is practically no limit to your creativity. Not just that, they are quite easier to clean off.
Which LED Light Bulb Color Best Represents The Color Of The Paint?
Repainting colored LED light bulbs may not be a good option as the paint may not come out as perfectly as you would love. 
In that case, you are advised to use a clear, white, or yellow light bulb to paint; this will increase the vibrancy of the color. 
Related Post: How To Hang Sconces Next To A Mirror
Does Yellow Paint Make the LED Light Bulb Warmer?
Yes, yellow paint will make the LED light bulb feel warm. This further increases the temperature of the room. 
Is there any risk involved in painting LED light bulbs?
Except in cases when highly flammable painting supplies are employed, the amount of risk associated with painting LED light bulbs is modest. 
In certain cases, the LED light bulb merely gets dimmer over time. This shows that the level of risk connected with painting LED light bulbs is determined by the type of product used to paint the bulb.
Painting your LED light bulb with oil-based paints may cause it to overheat and burst due to too much closed-up heat. This is more reason you must select the appropriate paint color for your LED light bulbs.
Can you clean a painted LED light bulb?
If you want your LED light bulbs to return to their original color after a short period of use, you may easily clean the paint off of them.
Only a few things are required, including rubbing alcohol, and a rag that you no longer need. You can finish this process by soaking your bulb in rubbing alcohol and letting it sit for a while.
After a while, remove the paint off your bulb with a rag and watch it return to its original state.
Final Thoughts
Painting your LED light bulbs is always a good idea because a little change never hurts. It tends to improve the overall look and feel of your home, 
While painting your LED light bulb is an excellent technique to improve your home lighting, it is essential that you begin with the right information. That will save you from a slew of problems while also assisting you in achieving your desired outcome.
We trust that this piece will guide you to make an informed painting decision for your LED light bulbs.