Desk lamps are an indispensable part of any household or office. They can provide you with the required lighting from close angles that you may not get from other light sources.
Moreover, the beams from most of these lamps help artists in focusing on a specific point with minimum glare. This helps to minimize the strain on the eyes when they work on their drawing for long hours continuously. An added advantage of these lamps is that they are portable and can be easily carried from one place to another.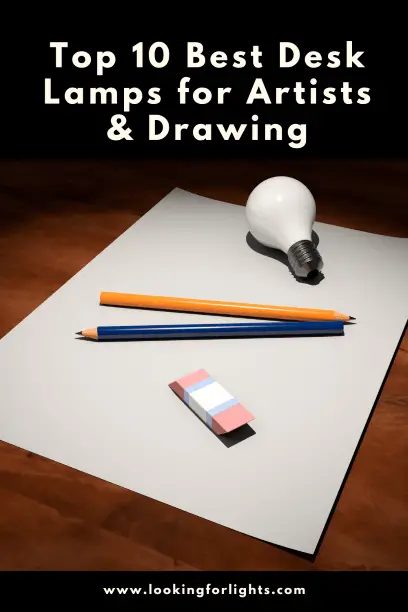 The adjustment feature is one other aspect that cannot be overlooked. This flexibility allows artists to tilt the desk lamps to any desired angle without any shadow formation. The fact that these lamps render really bright light in contrast to the dim light offered by most other light sources is yet another attraction.
Here are the top 10 best desk lamps for artists & drawing:
TaoTronics Dimmable
YOUKOYI Easy to Install
Brightech Magnifying Glass Included
Phive Memory Function Supporting
Koncept Lady Profile
OTUS Adjustable Swing Arm
ToJaneSpace Saving
Ominilight Eye-Care
LEPOWER Versatile and High-Performance
iVict Non-Ghosting
All in all, a desk lamp is undoubtedly a worthwhile investment for an artist to get the best out of his/her drawing. Here, we present a list of 10 desk lamps for you to get started.
Best Desk Lamps for Artists & Drawing with Multiple Brightness Adjustment
TaoTronics Dimmable Desk Lamp – A Great Desk Lamp for Confined Spaces
This desk lamp is a must-have if you do not have much space on your desk. With its rounded base and tall slender neck, the lamp takes up minimum space.
The touch sensors and touchpad controls make it much easier to operate the lamp and adjust its brightness. The lamp supports seven brightness levels and five color modes. This leaves you with 35 lighting tone possibilities with just a single unit.
The bulb used is an energy-efficient LED without flickering. This helps in not only enhancing the brightness of the lamp but also consumes less electricity than normal bulbs.
The USB port ensures that you can charge your phone while you work at your desk. The lamp head can be moved up or down by an angle of 135 degrees and to the right or left by 90 degrees to focus on the exact spot. You can take your pick from four different color options for this desk lamp.
| Pros | Cons |
| --- | --- |
| Affordable price tag | Wobbly base and tends to tip the lamp |
| Multiple adjustment options | On/off switch unresponsive at times |
| Lessens electricity bills by 75% | |
| No strain on the eyes | |
| Does not take up much space | |
If you're interested, check the price on Amazon!
---
YOUKOYI Easy to Install Desk Lamp – Good Choice for Architecture Drawing
This lamp should definitely find its place on your table if you want one that protects your eyes when you work for long hours. It has an elegant design combined with a clip-on mechanism.
Additionally, you can position the arm at any angle. The arm length can also be adjusted to any desired height. You can secure the lamp in your preferred position using the wing nut screws that are present at the pivot point.
Although you cannot adjust the position of the LED bulb, the brightness can be adjusted to low, medium, and high levels according to the natural lighting of your room.
At the lowest level, the bulb has a brightness of just 17 lumens. On the other hand, the medium and low levels offer a brightness of 170 lumens and 340 lumens. The folding mechanism makes it easy for you to take the lamp with you wherever you go. The desk lamp comes with a USB charging cable.
| Pros | Cons |
| --- | --- |
| LED bulb for long life | Can be wobbly if the clamp is incorrectly seated |
| Adjustable to various heights | Loosening of bulb arm pivot joint over time |
| Can be used both indoors and outdoors | |
| Conveniently located USB port | |
| Minimal time for installation | |
If you're interested, check the price on Amazon!
---
Best Desk Lamps for Artists & Drawing with Ease of Use
Brightech Magnifying Glass Included Desk Lamp – Great for Close Work
This desk lamp does more than just brightening up your work area. It features a magnifying glass on its head that allows you to see an enlarged image of the drawing that you are viewing with 2.25x magnification.
The lens of the glass is made of true diopter glass that is scratch-resistant and also puts your fears of it warping due to heat or overtime at bay.
The lamp features a vast height modification range starting from as less as four inches to as much as 33 inches. It has an overall height of 42 inches. The power button is located at an easy to access point on the lamp head close to the bottom of the lens.
The white-colored LED ensures a cool temperature and has a brightness of 800 lumens. The light has a long lifespan of about 20,000 hours that is close to 20 years with three hours of use per day. The desk lamp is available in black and color variants with a painted finish.
| Pros | Cons |
| --- | --- |
| Offers a magnified view of the completed image | Impossible to adjust the brightness of the light |
| An excellent choice for aging and poor eyes | |
| Three-year warranty | |
If you're interested, check the price on Amazon!
---
Phive Memory Function Supporting Desk Lamp – One of the Best Desk Lamps for Studios
This desk lamp features a wide lighting area with 200% larger and wider lighting coverage. This makes it ideal if you have a large desk or are working on a big canvas. The lamp has a durable gooseneck that makes the height adjustment hassle-free.
The lighting angle can also be adjusted at multiple angles for you to determine the ideal lighting when you are engrossed in your drawing. The touch controls are located right in front for easy access.
The key highlight of this lamp is its memory function. This helps the lamp recall the last brightness level and mode that you set before turning it off and activating the same when you turn it on again.
The uniform light distribution by the 20W LED light offers the assurance of no glare, flicker, or ghosting. The five levels of dimmer adjustments as well as the four-color temperature adjustments need special mention. The desk lamp comes in two color choices of silver and black.
| Pros | Cons |
| --- | --- |
| No need to remember the optimum light setting | Randomly flickering LED over time |
| Sturdy because of the aluminum body | Difficult to fix on the desk for some people |
| Vast lighting coverage | |
| LED power indicator on the power button | |
If you're interested, check the price on Amazon!
---
Best Desk Lamps for Artists & Drawing with Long-Life LEDs
Koncept Lady Profile Desk Lamp – Amazing Choice for Maximum Brightness
This desk lamp is best known for its award-winning design. The lamp has an L-shaped cordless joint design that gives it a classy look. The height-adjustable feature makes it ideal for you to try out several adjustments until you find the height that is just right for you.
The lamp body also features a swiveling mechanism. It is made of fully recyclable aluminum and has a water-based paint finish.
The mercury-free LEDs of the lamp have a very low power consumption of 6W and a long lifespan of 50,000 hours. This allows you to use the lamp for eight hours straight in a day for about 17 years without having to think of a replacement.
The inbuilt touch strip allows you to adjust the brightness of the light and change the color of the light between warm and cold through a simple hold and touch action. The continuous dimming action is another point worth noting.
The lamp has a USB port for you to ensure that your phone gets charged while you deliver your artistic strokes. The desk lamp comes fitted with a 10-foot cord in matte black, silver, and matte red colors.
| Pros | Cons |
| --- | --- |
| Made of environment-friendly materials | Priced on the higher side |
| Sleek and elegant design | Buzzing noise from dimmer after a few months |
| Auto shut-off after five hours | |
If you're interested, check the price on Amazon!
---
OTUS Adjustable Swing Arm Desk Lamp – Best Desk Lamps for Touchless Operation
This desk lamp ensures that you do not have to fumble for a switch to turn it on or off. You can do this by a simple hand wave above the lamp head. The light diffusion panel allows the lamp to radiate soft and bright light without strain on the eyes, flicker or ghost.
The lamp can be easily fitted onto your work table through a simple clip-on action. The long arm with swiveling action and 360-degree rotation hand allows you to place it in any position of your choice.
The 10W LEDs have a long lifespan and you don't have to worry about replacing them soon. The plastic clamp and lampshade are black while the heavy-duty aluminum arms have the same color as the material used to design them.
The memory function saves you the hassle of having to remember your preferred settings among 12 dimming levels and three color temperature modes. The desk lamp features 56 LED lights that render the maximum brightness.
| Pros | Cons |
| --- | --- |
| Adjustable to any desired height and angle | No USB support unlike many other lamps |
| Easy turn on/off with a hand gesture | Requires both hands for light and/or arm adjustment because of light base |
| No strain on the eyes | |
If you're interested, check the price on Amazon!
---
Best Desk Lamps for Artists & Drawing with Large Area Illumination
ToJaneSpace Saving Desk Lamp – Great for Indoor Use
This desk lamp is made of 0.6mm metal that has a sturdy construction. The grey metallic finish gives the lamp an elegant look. There are eight holes at the top of the lampshade that cause heat dissipation and prevent the lamp from getting overheated due to prolonged use.
The twin-arm can be stretched up to 32 inches to light up a large area. The three metal joints and four springs offer maximum adjustability and allow you to set the light direction of your preference.
The lamp can be assembled and operated in just a few minutes. It can be fitted with a lamp of maximum 40W wattage and makes use of a pushbutton for switching it on and off.
The grey and round lampshade have a diameter of five inches. The desk lamp is available in grey and white color options with a 57-inch cord fitted to it.
| Pros | Cons |
| --- | --- |
| Supports both LED and incandescent lighting | Does not include lamp |
| Space-saving design | Cannot be used outdoors |
| Does not get heated with long hours of use | |
| Clampable on both horizontal and vertical surfaces | |
If you're interested, check the price on Amazon!
---
Ominilight Eye-Care Desk Lamp – One of the Best Desk Lamps for an Affordable Price
This desk lamp is really exquisite with its slender 360-degree gooseneck arm. The reinforced heavy base offers the assurance of the steadiness of the lamp on the surface it is placed. The arm has a flexible silica gel tube inside it that allows you to adjust the lamp in any direction and angle combination.
The one-touch push button switch makes the switching on and off process easy. The lamp has three dimming levels for you to adjust the brightness according to the surroundings.
The lamp has a CRI of over 80 Ra and 15 white LEDs that feature clear lighting without flickering and ghosting to give your eyes the perfect care they need when you work for an extended time.
The LED bulbs have a lifespan of 25,000 hours. The lamp holder is made of ABS while the lamp rod is made of iron and has a silicone covering. The cord is 6.2 feet long and allows you to plug in the lamp to a socket that is away from your drawing table. You can choose your desk lamp from six color options.
| Pros | Cons |
| --- | --- |
| Covers a large area because of more refraction | Not possible to replace the LEDs |
| No strain on the eyes due to anti-flickering | |
| Minimalistic and stylish design | |
If you're interested, check the price on Amazon!
---
Best Desk Lamps for Artists & Drawing with Excellent Durability
LEPOWER Versatile and High-Performance Desk Lamp – Excellent Choice for Night Use
This desk lamp offers high performance and versatility in a single unit. The lamp produces a flicker-free and soft light that protects your eyes and keeps them free from fatigue when you draw your piece of art for long hours.
The touch-sensitive feature and memory function add to the ease of use while the metal stand and shade vouch for durability. The base is the only part of the lamp that is made of plastic.
The simple design makes it a good choice for any room and blends perfectly with its decor. The environment-friendly LEDs that generate white light help you achieve more brightness than traditional bulbs and have lesser energy consumption.
The lamp supports different brightness levels, three color temperatures of daylight namely white, white, and warm mode for daytime use, and a special night light function for use at night.
The 8W LED has a brightness of 350 lumens and a CRI of over 80Ra. The desk lamp comes with a 1.5m adapter in black and white color options.
| Pros | Cons |
| --- | --- |
| Adjustable head for focusing on a specific area | Can wobble if the clamp is not properly secured |
| Foldable when not in use | No sophisticated look unlike many other lamps |
| Ideal for use in dark rooms | |
If you're interested, check the price on Amazon!
---
iVict Non-Ghosting Desk Lamp – Child Artists Will Love this one
This desk lamp sports a unique look with its circular head featuring 24 7-watt LED chips and is sure to be a hit among children who enjoy drawing in the late hours. The choice of LEDs ensures that the electricity bill does not rise high even when the lamp is ON for a long time.
This lamp ensures less fatigue on your eyes with its non-flickering and non-ghosting properties. You can use it comfortably in any setting, thanks to its 10 brightness levels and three lighting modes.
The aluminum alloy body material offers the assurance of ruggedness while the 360-degree gooseneck renders flexibility by allowing you to turn the light source in the direction of your choice.
The inbuilt memory function ensures that you do not have to remember your last used setting every time you turn the lamp ON. The USB powered black desk lamp can be turned off in a minute by just pressing the On/Off switch for a couple of seconds.
| Pros | Cons |
| --- | --- |
| Lightweight and can be moved around easily | Requires plugging into a USB port to work |
| Can be clipped to various surfaces | Cannot stand on its own without clamping |
| Suitable for those who work long hours in a day | |
If you're interested, check the price on Amazon!
---
Buying Guide
With different types of desk lamps available in the market, you must do your research before buying a desk lamp as an inclusion to your workspace. There are some crucial aspects that you must consider to enjoy your drawing when you use the desk lamp.
Type of light
It's recommended to opt for desk lamps with LED lights so that there are minimum chances of flickering and ghosting. Moreover, these lights have more life than traditional bulbs. Some lamps make use of a single LED tube light while others feature multiple small LEDs.
Adjustability
This is one area that must definitely not be ignored. Apart from choosing a desk lamp with multiple color modes and dimming levels, artists should consider getting themselves a desk lamp with an adjustable head and arm that allows them to direct the light onto a specific area on their canvas.
Color Rendering Index
The importance of CRI for artists cannot be overlooked. The best choice for artists would be the lamps with a CRI that is as high as possible. This helps them to understand how the colors they choose for their work will appear when viewed with a light source.
Lamp size and placement
The size of the lamp is largely affected by your work area. If the drawing table is large, an artist can invest in a lamp with a large base that remains sturdy on the table. For smaller tables, a lamp with a smaller base and clip-on action is a better option.
Conclusion
A good desk lamp with proper lighting can help both seasoned and amateur artists breathe life into their drawings. Such a lamp will help artists in delivering the best artwork without shadows overpowering them.
Moreover, it will help them focus exclusively on their workspace so that they can get maximum coverage with minimum strain on the eyes. The best desk lamp will offer neutral lighting that ensures it helps artists visualize how their drawings appear in daylight.
Last but not the least, using the right desk lamp can boost the drawing skills of beginners and help them work towards improving their art.