When your incandescent light bulb burns out then it's time to dispose of them and replace them with the new one. But you might not be sure how to actually dispose of them, right? Well, don't worry, because you are exactly in the right place. So, how do you dispose of incandescent light bulbs:
Here's how you can dispose of Incandescent light bulbs:
Safely remove the incandescent light bulb from the socket
Wrap the incandescent light in paper before throwing
You can also use the intact bulbs for other purposes
Keep reading till the end because further in this guide, I will not only tell you in detail about how to exactly dispose of incandescent light bulbs. But also, I would explain to you whether or not they are hazardous waste and some other related topics.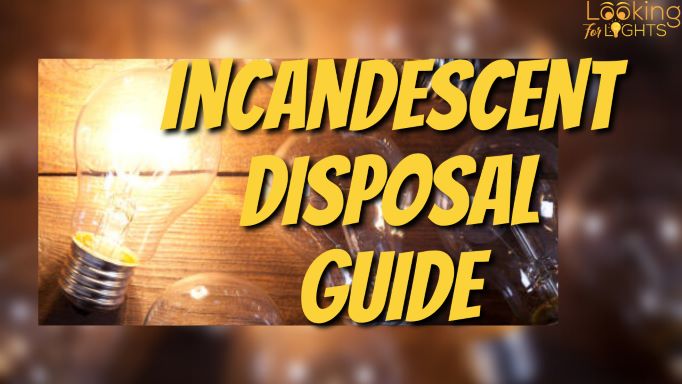 How Should You Dispose Of Incandescent Light Bulbs?
#1. Remove the incandescent light bulb safely from its socket
Removing the incandescent bulb from the socket becomes important especially when the bulb is old. If the bulb was being used for several years then it is likely that the base of the bulb has corroded especially if the fixture is in a humid type of place.
Now, considering the above-said situation, it can really become a big deal when it's time to replace the bulb because you could also break the glass when you are basically trying to unscrew or remove the bulb from its place.
And not only you could get hurt because of breaking the bulb, but the base can also remain in the fixture and can give shocks to anyone who would touch while the power is kept on.
So the best tip would be to always wait until the burned-out bulb gets cooled down. Then after that, turn off the power and use protective gloves while removing the bulb from its fixture or socket in a safe and careful manner.
I also recommend you to have a look at my article on is it safe to leave a light bulb socket partially unscrewed or empty.
#2. Cover the incandescent bulb before you finally throw
If an Incandescent bulb breaks then the sharp glass shards can get penetrated into the skin. It can puncture a garbage bag and thus be dangerous not only for you but also for the sanitation workers.
So for safety purposes, the best practice is to wrap the bulb in paper or plastic before you actually decide to throw them away in the trash.
And in case if you have halogen light bulbs then you should also check out my complete disposal guide for halogen light bulbs because it will eventually help you when you would be disposing of them.
#3. Be creative and use the incandescent bulb for other purposes
Now other than simply throwing away your incandescent light bulb another thing (and actually a better thing) you can do with them is to use them for other purposes.
However, remember before you decide to use the incandescent light bulb instead of throwing, please make sure that the bulb is intact.
So you can use the incandescent bulbs for any fun DIY project and make things like a vase for small plants, mini lamps, ornaments for Christmas, etc.
Are Incandescent Light Bulbs Considered Hazardous Waste?
Probably one of the first questions that come to mind while disposing of incandescent light bulbs is whether or not they are hazardous. And the simple answer to that is no, incandescent light bulbs are not hazardous waste.
In CFLs, you will find small amounts of mercury. However, incandescent bulbs don't contain mercury so even if you break the bulb (which you shouldn't because the sharp broken glass can hurt you) you won't get exposed to any kind of toxic fumes.
You may also like to check out my article: Do light bulbs have mercury in them?
The incandescent light bulbs contain inert gas like argon in order to stop the filament from corroding. And a thin glass shell enclosed the gas.
Actually, the main problem with incandescent bulbs is not associated with any kind of chemicals or toxicity. In fact, it is the shell that is fragile.
If the shell breaks then it can produce thin glass shards that could penetrate your skin, eye tissues and even be inhaled.
Hence, the main danger with the incandescent bulb is when we throw them carelessly into the trash. The waste facility workers can get affected because of the glass shards.
Since incandescent bulbs aren't considered hazardous waste and are not considered toxic you can safely throw them in the trash.
Can Incandescent Light Bulbs Be Recycled?
Yes, incandescent light bulbs can be recycled but it is generally hard because not all recycling centers will accept incandescent bulbs since specialized processes are necessary to separate the materials.
And though it can be very tempting for you to put incandescent bulbs in your glass recycling bin, please don't do it. 
It is because first of all the bulb can have a relatively high melting temperature than the other glass or bottles. Hence, your incandescent bulb can ruin a whole collection of recyclable glasses.
Also, the metal wires in the bulb, as well as other components, can be difficult to remove, and usually, the recycling centers can't do them. So generally it would be best for you to put the incandescent bulbs, after wrapping them properly in paper or plastic, in the normal trash.
Does Lowe's Recycle Incandescent Light Bulbs?
Lowe's is an American retail company that specializes in home improvement. They sell a variety of lights including incandescent lights.
If your incandescent light bulb has completed its life cycle and it's time to replace it then naturally you might think about whether or not lowe's accepts the incandescent light bulbs.
On corporate.lowes.com, it is said that lowe's stores offer a recycling center where they accept things like CFL bulbs, rechargeable batteries, cellphones, and plastic bags.
However, there is no mention of incandescent bulbs. Also, based on the research I did I can say that in general the incandescent light bulbs are not accepted for recycling by Lowe's
Where Do I Dispose Of Incandescent Light Bulbs?
Generally, as said the incandescent light bulbs aren't hazardous so you can just throw them away in the trash. However, if you want to know where you can give them so that your incandescent light bulbs can be recycled then here are some places you can look for:
#1. Curbside Recycling
If curbside recycling occurs near you through your municipality or any private company then you can start searching the particular service's website. 
Generally, services put a list of all the items they accept and all the items they don't accept. So you can check that list and see if an incandescent bulb is accepted by them or not.
Remember, usually, you can't expect your curbside recycler to accept things like a CFL because the fluorescent bulbs can release mercury as soon as they break. However, your recycler may accept other bulb types so make sure to check their list or ask them if possible.
#2. Recycling Centers
Another option would be to search recycling centers near you. You can search recycling centers specifically that accept incandescent light bulbs.
And while you research and find recycling centers, you might even end up finding processors that accept materials that you wouldn't have expected to be recycled!
You can look at the searchable recycling center databases through which you can find chain retailers that provide the light bulb recycling bin, specifically for CFLs. For example, Lowe's, Home Depot and IKEA stores also accept old bulbs.
#3. Mail-In Recycling
Even if still, you don't come across an easy way to recycle your incandescent light bulb, then there's another way you can try it out which is nothing but recycling by mail.
There are companies like Lampster Recycling that offer this kind of service.
You can just order a durable container online, fill it with your light bulbs and then send it back. Although this can be a bit expensive, if you live in a far remote location, then it can be one of the best ways for you to keep away your old light bulbs away from your area.
By the way, if you live in a place where vibration is common then you might like to have a look at my article where I explain about are LED and incandescent light bulbs vibration resistant.
Conclusion
In short, incandescent bulbs are non-hazardous waste so you can simply throw them in the trash. However, make sure that they are wrapped up properly for safety purposes. 
And if you can find any recycling center that accepts incandescent light bulbs then you can submit your light bulbs to them. That's it! Hope this guide has helped you.
By the way, have you ever wondered whether or not incandescent light bulbs flicker? Then I highly recommend you to check out this article where I explain about do incandescent light bulbs flicker, why, and also how to stop it.