The lava lamp is perhaps one of the most popular and unique types of lamps you can see in the market today. It was invented by Edward Craven Walker in 1963 when it was known as the Astro lamp. The idea behind its creation was to make a lamp that seems to always be in motion while staying stationary.
Over time, the name changed as well along with its design. The unique visual look and feel of the lamp won the hearts of hundreds of thousands of children and adults alike from all over the world.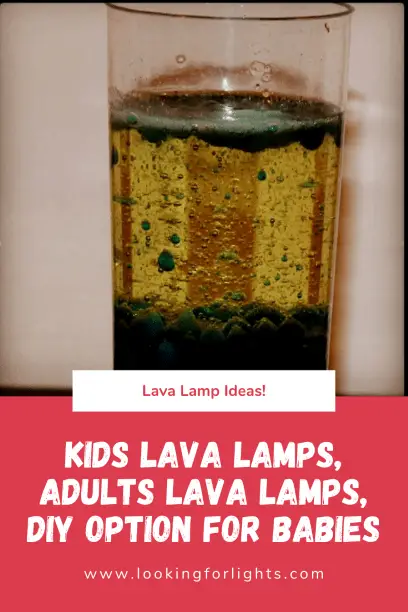 Here are 3 Great Lava Lamps for Kids:
AONESY Rocket
AONESY Retro
Lamp Lava 2600
Here are 3 Great Lava Lamps for Adults:
Lava Schylling
Aryellys Purple Capsule
Schylling Volcano
For babies, it is recommended to make your own "lava lamp" with some water, food coloring, vegetable oil, and a few other home ingredients. It's very safe, fun to make, and babies love the bubbles and colors!
These lamps are perfect for a living room or bedroom and make an excellent birthday gift as well. In a dark room, it can help you to set the ambiance or mood as per your needs. What makes these lamps so amazing is that the visuals are always changing which makes them always interesting to look at.
They are also amazing for infants as it helps them to recognize and understand colors and shapes. As long as you are cautious and exercise basic safety precautions, a lava lamp is a great purchase to make.
What to Look For When Buying Lava Lamps for Kids and Adults?
There are plenty of knock-off products and low-quality ones available for purchase but they will always be fraught with issues. To get the best bang for your buck, there are a few things you need to keep in mind. They are:
Size and Shape
Always pick the size and shape that will best suit the room you are planning to place the lamp. A lot of people buy the first lamp that looks good only to find out that it doesn't look so good when placed in their living room or bedroom.
Before you buy one, you need to decide where you will be keeping it and how much space will be available. After all, you don't want to buy a big one and then find yourself bumping against it every time you walk close by.
Build Quality
Some lamps use glass while others use durable clear plastic. The larger the glass, the more visible the moving lava effect. So if you want everyone to notice the lamp in the dark, always go for one with a large glass covering. When it comes to base materials, always go for lamps that come with a metal base.
Designs and Colors
In most cases, the more colors the lamp has, the more random it will feel. This will make it interesting to look at no matter how many times you have seen it. Not everyone will be comfortable with multiple colors though. So if you are someone who likes to have only a single color type ambiance, go for it.
Best Lava Lamps for Adults
Lava Schylling – an Affordable Minimalistic Lava Lamp for Adults
If you don't like vivid and gaudy colors and prefer something more minimalist in nature, then you might love this one. It features a glass and metal construction, neon blue wax, soft ambient lighting, 120 VAC source and a 25 W bulb.
At 3.9 x 3.9 x 14.5 inches in size and 3.21 pounds, it is compact enough to be placed pretty much anywhere. While some lava lamps don't look great with a single color wax, it works very well here thanks to the black exterior and elegant design.
When it comes to durability, this one is very reliable thanks to the metal and glass construction. If for some reason the wax looks cloudy inside, turn the lamp ON and allow it to heat up for the wax to start moving. Sometimes it can take some time before you see the lava lamp effect and so you might have to run the lamp in short bursts.
| Pros | Cons |
| --- | --- |
| Durable metal body | Tends to get a bit hot so need to keep it away from small children |
| Amazing minimalist single tone wax visual look | |
| Comes in an elegant design | |
If you're interested, check the price on Amazon!
---
Aryellys Purple Capsule – an Affordable Unique Lava Lamp for Adults
Not everyone likes the traditional lava lamp shape and if you are one of them, then this one might catch your fancy. It comes with a beautiful capsule-shaped exterior, glass and metal construction, purple wax and worry-free support for any issue you may face.
This one is 12 x 8.6 x 4.9 inches in size and weighs a hefty 4.49 pounds making it one of the heavier lava lamps out there but it is an absolute beauty to behold. From the unique capsule-shaped exterior to the bright and vivid purple wax, this one will surely turn heads.
The base is plastic but the glass is pretty thick, which makes it quite durable. The plastic base also makes it less hot to the touch when compared to lamps with metal bases. It also takes only about 2 hours to get the lava to float whereas most other lamps take 3 plus hours.
| Pros | Cons |
| --- | --- |
| Very unique design | Cloudy liquid inside the lamp |
| High-quality construction | |
| 30 day no questions asked return/refund option | |
If you're interested, check the price on Amazon!
---
Schylling Volcano – an Affordable Bright Lava Lamp for Adults
If it's bright and vivid colored wax you want to float around in your lava lamp, then this one is definitely worth keeping in mind. It comes with a volcano base decal, 25 W bulb, aluminum shade material, white wax and clear liquid inside.
It's 4 x 4 x 14.5 inches in size and weighs about 3.06 pounds, which is the standard size most lamps come in. This one visually stands out from its competition by producing a very intense white-hot visual thanks to the dark orange background and white wax. It truly feels like a volcano when kept in the dark.
It does take a long time to get started but with this one, the wait is truly worth it. It's also perfect for the bedroom as it doesn't contain any blue or green light that can keep you awake.
| Pros | Cons |
| --- | --- |
| Provides exceptional mood lighting | You might have to tip it sometimes to get the coil to settle at the bottom |
| Intense and vivid visuals | |
If you're interested, check the price on Amazon!
---
Best Lava Lamps for Children
AONESY – an Affordable Rocket Lava Lamp for Children
If your kid loves rockets, then this is the perfect lava lamp to get him/her. It comes in red color with sleek aesthetics, an AC power source and a plastic shade. When it comes to the design, this one does a great job of getting the silhouette proper.
It is 12 x 7.7 x 6.5 inches in size and weighs about 3 pounds, which makes it ideal for children above the age of 10. The wax inside changes shape, breaks apart and comes back together in classic lava lamp fashion. You do have to make sure that you tell your child not to touch it or play with it as it can get hot.
As the transparent covering is made out of plastic, it should be relatively safe too. You don't have to worry about it shattering on impact like glass. All in all, this is a great lava lamp for kids who are into rockets and dream about becoming astronauts.
| Pros | Cons |
| --- | --- |
| Comes with great aesthetics | Comes in a single color |
| Classic lava lamp visuals | |
| Bright and mesmerizing in dark environments | |
If you're interested, check the price on Amazon!
---
AONESY – an Affordable Lava Lamp for Young Explorers
Childhood is a magical time when one can pretend to be anything one aspires. If your kid wants to be an explorer, then this one might be right up their valley. It comes with a retro design, UL tested certification, mesmerizing visuals and a tri-colored glass globe.
At 4 x 4 x 14.5 inches and 3.2 pounds, you can easily place it on your child's study table. What makes this lava lamp so unique from the others is its display featuring the northern lights. The colors pop while not being too intense. The glitter inside changes color while moving up and down the tricolor globe and creates a beautiful and serene visual.
It is made out of glass and aluminum and so requires to be handled with care. This is not to say that it is dangerous per se but anything involving glass must always be handled with care. So you need to make sure it is never kept on the edge of a table. It's also important to note that it may not be a good idea to keep it in the bedroom as the colors might make your child stay awake.
| Pros | Cons |
| --- | --- |
| Vivid and bright colors | Doesn't come with multiple color options |
| Good build quality | |
| Easy to assemble | |
If you're interested, check the price on Amazon!
---
Lamp Lava 2600 – an Affordable Rainbow Lava Lamp for Young Children
If you have a child who colors and enjoys rainbows, then this one might be for him/her. It comes with a 120V AC power source, glass and aluminum construction, an art deco style globe, and a beautiful painted finish.
At 4 x 4 x 14.5 inches in size and 3.1 pounds, it's small enough to be placed pretty much anywhere while being large enough to enjoy its beauty. What makes the visual so pretty in this lava lamp is the wide variety of colored blobs moving around and breaking apart from one another. You can watch it for hours and still not get bored.
This one is made out of glass and aluminum. Hence, you must handle it with care. It's very easy to assemble too and comes with a simple plug and turn on functionality. It also serves as an excellent night lamp for children.
| Pros | Cons |
| --- | --- |
| Multiple colors that enhance the visual appeal | Chances of blobs rising and getting stuck at the top |
| Looks stunning at night with colors that pop out | |
| Easy to assemble | |
If you're interested, check the price on Amazon!
---
Are Lava Lamps Good for Babies?
Lava lamps are very good for infants as the colors and shapes help them in developing their main motor skills. However, a lava lamp that runs on electricity can be dangerous to have around a baby. The glass might get very hot to touch and may burn their skin.
Luckily, there is a way in which you can create a lava lamp from the comfort of your own home. This one doesn't require any electricity and will never get hot too. Here is how you can make it.
What Do You Need to Make a DIY Lava Lamp for Babies?
Here are some of the household items you need to start making your lava lamp.
Empty clear water bottle (Unique looking ones are best)
Cooking or vegetable oil
Funnel
Water
Food Coloring
Duct Tape
Antacid (optional)
How to Make a DIY Lava Lamp for Kids and Babies?
The steps are as follows:
1)  Take an empty water bottle and fill it with cooking or vegetable oil by using the funnel. Make sure you don't fill the entire bottle. Keep at least 25 percent empty.
2)  Mix some water with the food coloring and pour the mixture into the cooking/vegetable oil-filled water bottle.
3)  Screw the lid tightly and to ensure that it doesn't leak. Wrap some duct tape around the cap. This needs to be secure as the baby will be playing with the bottle and he/she mustn't get exposed to the mixture inside.
4)  Watch your baby's face light up as colorful blobs rise up and down due to the difference in viscosity.
You can also pop an antacid in the bottle before sealing the lid to get bubbles to form inside. You can also try out various color combinations in different bottles and let the baby play with whichever appeals the most. This is also a good way to figure out which colors appeal the best to your baby.
If your child is between the ages of 5 to 8, you can involve them in the creation process and teach them about why the colored blobs look the way they do. It will be a great bonding experience for you and your kids while educating them at the same time.
Frequently Asked Questions
1) How does a lava lamp work?
A lava lamp is an incandescent or halogen lamp that contains a mixture of various materials such as mineral oil, paraffin wax, and carbon tetrachloride (which was banned from use in 1970) with water.
When the lamp heats this mixture, the wax becomes less dense as it starts to expand more. Hence, you see blobs of wax floating around and merging when you turn the lamp on.
Today, no one knows what is being used in place of carbon tetrachloride as it is a trade secret closely guarded by the company. Some of the latest lava lamps use ferrofluid instead of wax.
2) Are Lava Lamps dangerous?
Yes and no. Similar to anything that uses electricity, you need to follow basic safety measures to ensure that you don't end up in a dangerous predicament.
If you buy knock-offs at extremely affordable rates, they might save you a lot of money but they will also have a higher chance of exploding from overheating. So, always go for good quality ones and never handle them recklessly.
Also never keep a lava lamp ON throughout the day and night as it will overheat and cause a potential fire hazard. Keep it ON only when you need it and turn it OFF if you find out that it's getting more hot than usual.
3) How long will a lava lamp last?
Bad quality lava lamps will only last a few weeks or months but a high-quality lava lamp can last for up to 2000 hours or more based on how you use them.
As a general rule, never keep them turned ON for more than 8 hours as it will not only reduce its lifetime but also increases the chances of it overheating.
Once it's past the expiry date and ceases to function, you can just get the bottle replaced and get it back to working. Getting it replaced will cost you money though.
Conclusion
As long as you exercise caution and use your common sense, you shouldn't have any issue buying a lava lamp. If you are unsure about a particular lamp, feel free to do more research online and see what other customers think. Do take the reviews with a grain of salt.
It's also very important to note that lava lamps tend to get very hot over time. So, make sure you let your children know if you are buying one for them.
To ensure you get value for your purchase, always keep your eyes open for return policies. Most lava lamp products online might not have them but if you see them, it's always safer to go for them.