Chandeliers are great as light fixtures because they not only provide a great sense of illumination but also act as amazing visual elements. A chandelier can tie in various other décor pieces and set an elegant and sophisticated ambiance. However, it is pretty complicated to mount and install especially due to wirework and setting the junction box properly.
Ever wondered, "Can you hang a chandelier without wiring?" If so, then you might be glad to know that you can. The installation will still be a little complicated but it's quite doable. All you need are the proper tools and know-how.
Here we will be looking into how to hang a chandelier without wiring. Do note that you will need a good amount of experience and knowledge about how to install light fixtures to mount a chandelier this way. If you are not confident enough, do hire professional help to ensure everything goes smoothly.
Can You Hang a Chandelier Without Wiring?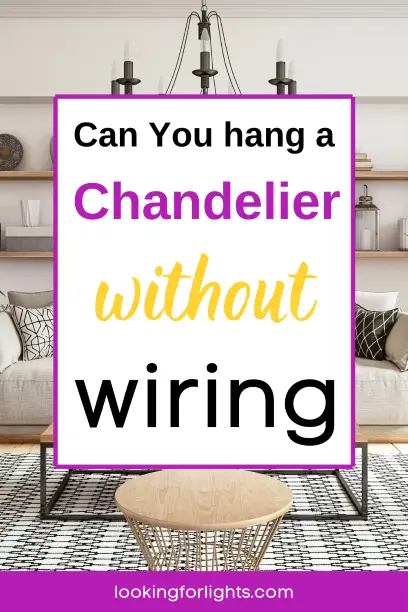 You can hang a chandelier without wiring but it might not be as easy as you think.
Before we get into the installation, here are some of the tools you will need to get the job done.
A wireless wall switch
A stud finder
A driller ceiling hook or a ceiling hook with toggle wings
A cord cover
Once you have the necessary tools, we can get started with the installation process. Here are the basic steps to hanging a chandelier without wiring.
7 Steps to Hang a Chandelier Without Wiring
Step 1
The first thing you need to do is note down the weight of the chandelier. Always buy one that will fit the room's décor and provide an obstruction-free illumination. Measure the height between the ceiling and the floor too so you know the proper height to hang it.
Step 2
The next step is to convert the wiring connection. You might need to hire a professional for this step because you need to splice the wires of the chandelier to the male end of an extension cord. Using heat shrink tubes can help to easily splice the wiring.
Step 3
Once that is done, you must install the ceiling hook. Chandeliers are usually heavy and so you need to make sure that the ceiling hook you buy will be able to support its weight. Always go for a high-quality one even if it costs you a bit more.
Step 4
Use your stud finder to locate a joist for the hook installation. If you are not able to find a stud where you need to hang the light, then ceiling hooks with toggle wings are a great option to go for. They can hold any light fixture of 20lbs and lower weight as long as it's installed on a hollow wall or mid sheet drywall.
Step 5
Once the rewiring is done, the installation of the chandelier is pretty simple and straightforward. The main thing you need to figure out here is how to mask the cords. Leaving them as they are will be quite ugly and clash with the décor. You can go online and search for a good quality cord cover and use it to mask the cords.
Step 6
You have to figure out how you want the cord to look as it runs down your wall. Concealing it behind the molding or tucking it around a painting would be a good idea to consider. If that's not possible you might want to consider painting the extension cord to match the walls.
Step 7
Finally, you must set up a wireless switch so that you don't need to plug and unplug it every time you use it. You can buy them online and the installation is fairly simple.
Conclusion
Hanging a chandelier without wiring might not be as simple as installing a normal light fixture but it is quite fun and you get to be quite creative with it too. By finding out unique ways to hide the cord, you can make it a part of the décor or even add to it. The only complex part of mounting a chandelier without wiring is converting the wiring connection. This can get a bit tricky and so it is recommended that you hire a professional to do it.