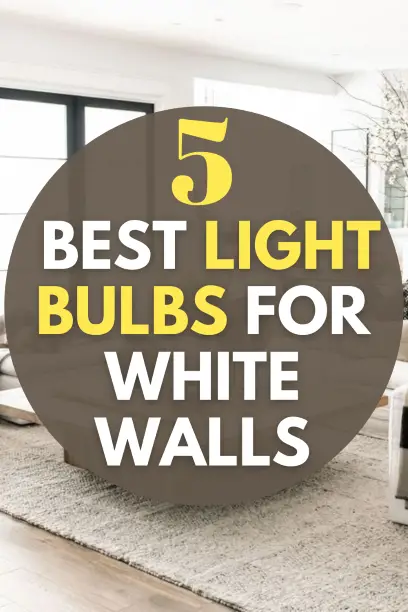 Lighting plays a very important role when it comes to setting up a visual atmosphere in a room. There are many different types of light bulbs today. You can choose the right one that will not only offer excellent illumination but also compliment the color on your walls.
The 5 best light bulbs for white walls are:
LEDVANCE SYLVANIA (12 Pack)
Great Eagle A19
SYLVANIA Color Dimmable LED
Philips Hue LED
Ascher Vintage
Choosing the Right Color Temperature
No matter what type of bulb you choose, all you have to do is look for the right color temperature to get the atmosphere you are looking for. So if you want a warm golden glow in your room, you can choose a bulb that comes with a color temperature in the range of 2000K to 2500K (Ultra Warm White). This will be the warmest of all lights and will create a very relaxing and soothing atmosphere.
If you are a fan of warm white, the bulb you need should be in the range of 2500K to 3500K. This will provide a warm glow but it won't be as soothing as the ultra-warm white. If you want bright white light, then you need to look for a bulb that comes within the range of 3600K to 20,000K.
5 Best Light Bulbs for White Walls
Here are some of the best light bulbs for white walls.
LEDVANCE SYLVANIA (12 Pack) – Best Value Soft White LED Light Bulbs
If you are looking for a bright white (2700K) light to get a nice, bright glow all over the room, then you might find this one to be quite useful. It comes with 6 watts wattage, a lifespan of 11,000 hours, mercury and lead-free, 2700K and also 450 lumens.
They are non-dimmable; however, they are also shock and vibration resistant as well. While a lot of bulbs have these features, they are important when it comes to your safety. No toxic materials such as lead or mercury are used in this bulb and you also don't have to worry about infrared or ultraviolet radiation.
You can also buy them in packs of 24 and 48 as well to get even more value for your money. However, it would of course make sense only if you need so many bulbs. If your home requires only 12 bulbs in total, then a 24 pack one will be more than enough as you will get a spare one for each.
If you're interested, check the price on Amazon!
---
Great Eagle A19 – Best Warm White LED Light Bulbs for Replacing Incandescent Bulbs
If you are a fan of incandescent or halogen bulbs but are looking for a more affordable (long-term) option, then this might be the one for you. It comes with a pack of 10 bulbs, 9W wattage, 2700K (warm white), 750 lumens, 10,000 hours of lifespan and a 3-year warranty.
With 750 lumens, these bulbs are quite bright but at the same time offer a warm and soothing glow. Compared to incandescent or halogen bulbs, they also only require 9W of wattage which makes it incredibly worth its price in the long term.
You can use it for a variety of purposes and rooms ranging from your living room, hallway, bedrooms and even kitchens. With 2700K, they offer clear light without any yellow or blue tones which makes it ideal for white walls.
If you're interested, check the price on Amazon!
---
SYLVANIA Color Dimmable LED – Best Value Color and Dimmable LED Light Bulbs
If you are a fan of colored lights instead of the traditional warm and cool whites, then you might find these to be very interesting. They come with 4 light bulbs, voice control compatibility with Alexa, Google Assistant, Siri, color customization, 90+ CRI, dimmable functionality, 9W and 800 lumens.
Its most unique feature is of course its smart functionality. You can control it with your voice and install the APP to access other functionalities. You can create a lighting schedule for better convenience or select from the many mood lighting settings as per your needs.
You can even select the standard white light with color temperature ranging from 2700K to 6500K if you want to change things up. These bulbs also have a lifetime of 13.7 years which makes them worth every penny you pay for it.
If you're interested, check the price on Amazon!
---
Philips Hue LED – Best High-End Smart LED Light Bulbs
This one is a bit on the expensive side but it does come with a ton of features too. It comes with white and color (16 million) ambiance options, smart functionality, 22 years of lifetime, multiple lighting modes and 800 lumens.
This is expensive but if you want to slowly transform the current lighting setup to a smart one, you might find these to be worth it. On the app (Hue Hub), you can choose from four different lighting modes such as energize, concentrate, read and relax to set up the light exactly the way you want.
You can use the timer to automate lighting and enjoy a hands-free experience throughout the day and the night. If you don't want colored lighting, you can also choose from the white ambiance or the white light options. All in all, a great smart light bulb for white walls.
If you're interested, check the price on Amazon!
---
Ascher Vintage – Best Dimmable Elegant Daylight White LED Light Bulbs
This one is for those who like their light bulbs to look different than the traditional shapes. They come in a pack of 6 bulbs, have dimmable functionality, unique design, high CRI (Color Rendition Index), 6W, 4000K, and 700 lumens.
Its most distinct feature is its design. It has a very retro yet elegant look to it that will surely catch everyone's attention. It is compatible with dimmer switches and so you can dim it all the way to 10 percent based on your mood.
It also comes with a lifespan of 20,000 hours and a brightness of 700 lumens which is more than enough. If you have any issue with it after buying, you can contact the manufacturer as they offer an 18 month service period for any issues or defects.
If you're interested, check the price on Amazon!
---
Conclusion
Of these 5 best lights for white walls, my favorite is definitely the Philips Hue LED. It gives off a nice light that is bright but not too bright. It also has amazing features that can be customized via a smartphone app. If you want something with more color, go with the SYLVANIA Color Dimmable LED. It also has similar features but includes RGB as well. The SYLVANIA comes with more bulbs and is cheaper so if you are on a budget go with that. However, if you just want a high-end premium bulb that looks great on white walls, go with the Philips Hue LED.