Are you preparing for a hangout, dinner date, or an event with your friends and family? If so, then oil lamps are your best bet for setting the scene up, thus, providing you with the best scenery. Oil lamps illuminate the room and give a cozy light that you can't get with any other techniques. 
The question now is, are oil lamps safe indoors? Yes. You can safely use oil lamps indoors as long as you understand how to properly set them up. It serves as a great alternative to electric lights and can be used to light up a darkroom in the absence of electricity. You can use oil lamps indoors if the fuel is properly selected, refueled carefully and kept away from children and pets. 
This piece will show if oil lamps are safe for indoor use and some guidelines for using them.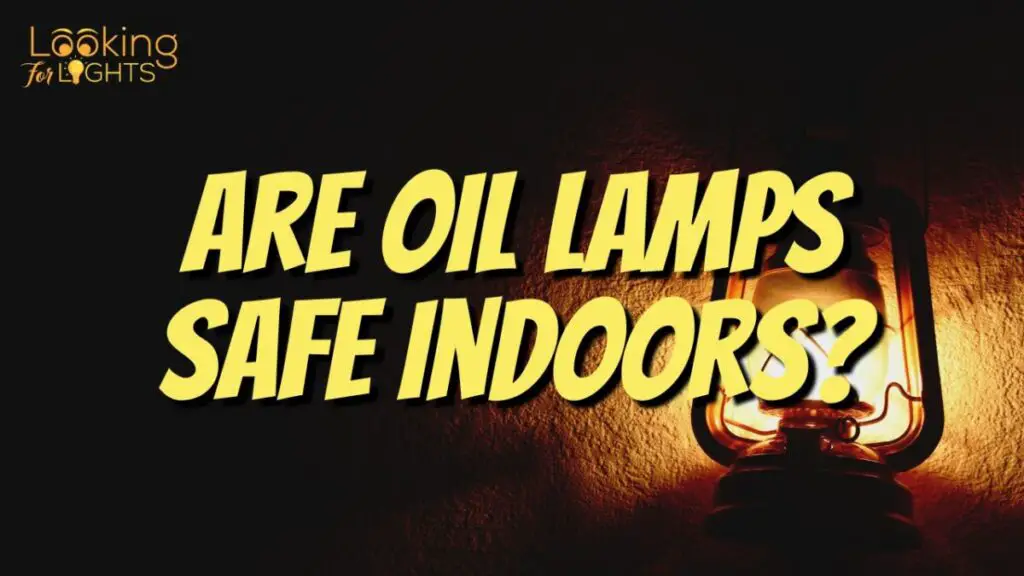 Tips For Using Oil Lamps Indoors
Here's what to know before using oil lamps in your home: 
1. Choose The Right Fuel
This is probably the most important tip to look out for. Choosing a safe and reliable fuel for your oil lamp can aid its proper functioning indoors. A clear lamp oil will be a great pick because it is generally designed for indoor lamps and it is less flammable. 
Also, an eco-friendly, odorless, clean, non-toxic and smokeless lamp oil will get the best out of your oil lamp, especially when used indoors. Ensure to avoid substances such as gasoline, alcohol, diesel, and other oils that are combustible.
2. Be careful During Refueling
You should look out for burners, chimneys, and glass globes when refueling your oil lamps. That's because they get really hot when the light is on. Always let it cool off before you deconstruct the parts to refuel it. 
If you are using a hanging or wall-mounted lamp, remove the oil font or the container that carries the oil, then you can refill it. You also need to avoid spillage and make use of funnels while applying the oil. If any spillage occurred during the refueling, you can clean it off carefully before you light it up. In the absence of a funnel, pour in the oil slowly and carefully to avoid spillage. 
In addition, never try to refuel an oil lamp when it's still lit up. A wick that's soaked is flammable even when it's not attached to an oil lamp. 
3. Avoid Overfilling
Make sure that you don't overfill the oil font. Instead, fill just two-thirds of your oil lamp's oil font to avoid unexpected flame when you light up the wick. 
You must also ensure that the saturated wick is on the same level as the burner when you finally light it up. When you light up the lamp, reduce it slightly to maintain a cool, even flame.
4. Keep The Oil Lamp Away From Children And Pets
Children and pets, most times, tend to get attracted to flames. They might also perceive some lamp oils to be water. That's why you should keep them away from children to prevent them from kicking it over, touching the hot glasses or flames, or even drinking the oil.
Other times, you can build a locked cabinet to keep the oil lamp inside so that pets and kids won't have access to it. Also, do not leave your oil lamps in an inaccessible area. Supervise them always and be critical about the maintenance.
Types Of Oil Used In Oil Lamps
Oil lamps come in different shapes and sizes and each of them has unique features. They require a specific oil type that enables them to illuminate the environment properly without hazardous flames. 
Generally, oil lamps consume about fifty percent of an ounce of oil per hour. While some oils burn faster than others, you should keep your lamps averagely full for efficient lighting. You can either choose the standard oil, organic oil, or specialty oil. Below are the types of oils you can use for your lamp;
1. Traditional oils
These include kerosene or paraffin and they are produced from hydrocarbon molecules gotten during petroleum refining. This kind of fuel burns properly but produces too much smoke and soot, which leaves a different black spot on the surface of the lamp. The black spot might also reduce the brightness of the lighting. 
2. Ultra-clean or ultra-pure lamp oils
Ultra-clean lamp oils are often obtained from standard kerosene but are properly purified to reduce too much flame. As a result of the several distillations, this fuel produces very clean burning and is one of the most popular oil lamp fuels. Unlike traditional oil, it leaves less soot and a dark spot on the surface of the lamp. It also produces bright lighting, and this is because of the absence of sooty and dark spots on the glass. 
3. Organic Oils
Some users that are critical of the ecosystem make use of the organic oils that are produced from vegetables and other plants. These oils are quite scarce and expensive, but they burn effectively and cleanly. 
Many relied on castor oil made from castor plants in the past. But in recent times, olive oil and vegetable oil seem to be the common option amongst oil lamp users. These oils do not ingest harmful chemicals into the air nor produce soot, unlike kerosene. 
4. Scented colored oils
These are also good picks if you want to create an ambiance atmosphere or a specific mood or tone within a room. 
How To Ignite Oil Lamps 
First, you need to know that all oil lamps feature 3 main parts:
The chimney that encloses the flame
A small container that houses the fuel
The wick that connects the oil to produce the flames. 
Below are steps to lighting up your oil lamp:
Step 1
Unscrew the chimney from the lower part or lift the enclosed lid. This depends on the type of oil lamp you are using.
Step 2
Fill the lamp ⅔ full with the right lamp oil and tune the wick with the key on the side of the oil lamp. Also, check if there was a spillage when you were applying the oil and clean it carefully. 
Step 3
Wait for about 20-30 minutes for the wick to get saturated. Then, check the white fibers of the wick to see if your lamp is ready for use. The best way to know this is to check that the white fibers have fully become darker. That way, you can be sure that it has fully absorbed the fuel. 
Step 4
Tune the wick of the lantern and cut away the burned part. You can adjust the height of the wick if necessary and use a match to light the wick. If the lamp is producing a lot of smoke, tune down the height of the wick.
Why You Should Keep Oil Lamp Clean
Aside from being so unattractive, keeping your oil lamp dirty can pose a risk to your health.  That's why you should be mindful of the interior part of the oil lamp as you are with its exteriors. So how can you ensure this?
1. First of all, remove the oil lamp glass/globe, the wick, and the lid of the oil container. You can keep them separately for proper cleaning. 
2. Dispense the old oil from the oil container into a cup or small container, (pour it through a funnel) then tune the lid firmly to the container. 
3. Apply a small portion of granular dishwashing detergent into the oil container, (you can measure with a spoon). Now, pour very hot water into the container until it's two-thirds full, cover the container and swirl the container. This will mix up the water with the detergent to coat the inside of the glass. 
4. Get a bottle brush and scrub the insides of the container. Then, dispense the soapy water and replace with another and leave it till the next morning. Pour the soapy water away in the morning and rinse the container with hot water. Do this until you're sure the insides are clean. 
5. When the inside is dry, you can now refill the lamp with fresh and clean oil. Reset the wick, the globe, and other parts of the oil lamp. 
Can Oil Lamp Cause Carbon Monoxide Poisoning? 
Most times, yes, an oil lamp can release carbon monoxide into the air. This is more reason why you're advised to buy and install a carbon monoxide detector in an area of your home.
If you're confused about how to go about buying a good detector, consult a qualified oil lamp supplier for assistance. 
Related posts: Lava Lamp vs Salt Lamp: Which One Works Best for You?
Conclusion
Oil lamps produce cool and mood-lifting lighting in the absence of electricity. They have simple designs, different styles, and shapes that you can choose from depending on your taste and are easy to use. 
Once you are careful and you follow the guidelines listed above thoroughly, using oil lamps in your room should not be an issue. Look out for children, soaked wicks, and spillage during refilling and you are good to use oil lamps indoors.